Torstraße 60, 10119 Berlin
030 28046495
—–ENGLISH BELOW—–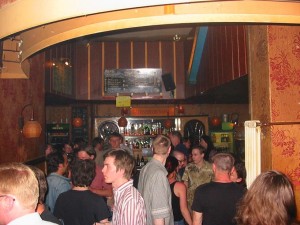 Den Restaurationsstandort Torstraße 60 gibt es seit 1890. In den 70-er Jahren entwickelte sich das Burger zu einer Szene-Kneipe. Ab 1976 war hier auch ein Treffpunkt für die politischen Dissidenten und Ausreisenden in spe. 1999 übernahm eine Betreibertrinität das Lokal. Nach kurzem Tresenumbau eröffnete die Tanzwirtschaft Kaffee Burger am 10. November 1999 unter der Devise "Prenzlauer Berg jetzt auch in Mitte". Seither steppt der Bär. Der Rest ist Sittengeschichte – die sich hinzieht. Später kamen noch die neuen Räumlichkeiten dazu: Burger Bar war eröffnet. Jeden Tag Lesungen oder Live-Konzerte. DJs ab 23.00.
Das Kaffee Burger lebt natürlich von seinem Russendisko Ruf. Ein Wladimir Kaminer als Mitinhaber ist aber auch ein wirkliches Schmuckstück in puncto Symphatie Träger. Der Eintritt ist noch im Rahmen, das Ambiente wie in den 50ern; Fluch und Segen zugleich. Das Kaffee Burger manchmal als "Touristen-Club" abzutun, wird ihm nicht gerecht, denn Touristen fallen hier nicht negativ auf, und die Stimmung ist definitiv lockerer als in so manchen Szene-Clubs.
—–ENGLISH—–
The restaurant site Torstraße 60 has been in existence since 1890 and in the 1970s the Burger became a trendy pub. From 1976 onwards, it was also a meeting place for political dissidents and emigrants. In 1999 an operator-trinity took over the premises. After a short change of the counter, the dance business Kaffee Burger opened on November 10,1999 under the motto "Prenzlauer Berg now also in Mitte". The bear has been quilting ever since. The rest is moral history – which drags on. Later the new premises were added: Burger Bar was opened. Every day readings or live concerts. DJs from 23.00.
The coffee burger lives of course from its Russian disco reputation. But a Wladimir Kaminer as co-owner is also a real gem in terms of symphatic support. The entrance is still in the frame, the ambience as in the 50s; curse and blessing at the same time. Sometimes dismissing Kaffee Burger as a "tourist club" doesn't do him justice, because tourists don't notice anything negative here, and the atmosphere is definitely more relaxed than in some scene clubs.