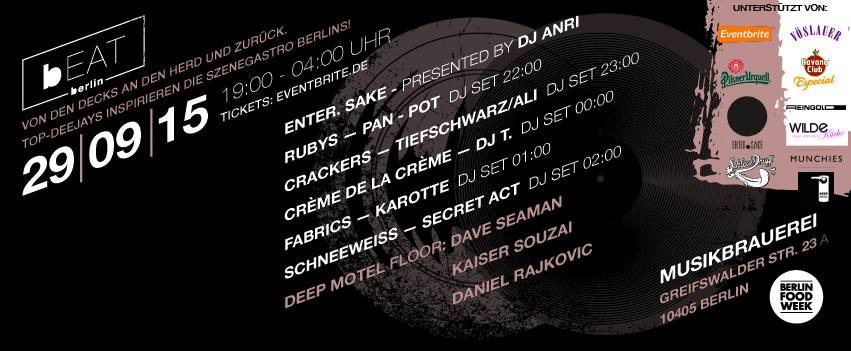 29 September 2015
19:00 – 04:00
Musikbrauerei Prenzlauer Berg
Greifswalder Strasse 23A
Kosten 8 EUR
Line-up:
Pan-Pot
Tiefschwarz
DJ T.
Karotte
Dave Seaman
Kaiser Souzai
Daniel Rajkovic
Special Guest
Mixing DJs and Chefs
As part of the Berlin Food Week, bEAT Berlin is mixing the two medias food & electronic music. Five DJs will be producing in the kitchen instead of in the comfort of their studio.
A consort from the culinary scene will join each of our chosen five and together they will stir things up at Musikbrauerei. 250 guests at a supreme food court will then taste the result of this unusual merger.
The head chefs of restaurants such as Ruby's, Crackers, Fabrics, Crème de la Crème and Schneeweiss will be working their magic at street food stands. Each one of them will come up with the recipes and create their dish live and together with their DJ-companions at the location. This certainly presents a challenge, but don't you dare underestimate these musical connoisseur's culinary abilities. They know all too well what tastes good and goes well together, after all, a good dish consists just as much of its ingredients as a good musical piece does.
Joanis Huegel, former DJ Apollo, is an expert in both fields. He didn't just use to spin at clubs such as "Icon" and "Watergate", but is also the owner of the Italian restaurant and bar Ruby's, which he opened up in 2012. At bEAT Berlin he is going to be joined by his friends and Ruby's regulars Tassilo Ippenberger and Thomas Bendix from Pan-Pot, who spent the entire summer touring and eating their way through Europe and beyond.

That is what the guys from Tiefschwarz have been doing since the late 90s. The two brothers Ali and Basti Schwarz' personal list of recipes is almost as extensive and international as their career. So it seems perfect to pair them up with none other than Berlin nightlife legend Heinz Gindullis, aka "Cookie". He is inter alia the owner of Crackers, a place Tiefschwarz loves to visit, when passionate home cook Ali isn't working the stove himself. We are very excited and curious to see what this competent Crackers-Tiefschwarz-Team is going to create and serve us. The expectations are definitely high!
The German and French fusion restaurant Fabrics usually has its residence inside the nhow-Designhotel. Dirk Dreyer, the manager decided to go with his long-time DJ-companion Karotte. This is more than suitable, as Dreyer used to play at "Sage Club" and "Cocoon" in Frankfurt on a regular basis, just like DJ Karotte. Also, obviously we cannot miss an artist, who hasn't only been an expert in his field for more than 20 years, but is also the operator of a radio show called Karotte's Kitchen. Only the ones present will get a taste of what he is capable of cooking up when paired up with Dreyer and his team.
And from the savory side of things last but not least: Crème de la Crème, with its food-consulter Ben Pommer, who spent many years proving his cooking skills in a number of Michelin Star restaurants across Germany. Pommer is going to be joined by Thomas Koch aka DJ T., who has been spending just as much time behind the turntables and in clubs as his culinary counterpart has behind the stove and in the kitchen. He hasn't just been making music for the past 30 years, but also founded Groove Magazine in the late 80, launched his own club Monza in Frankfurt in the 90s and co-founded the world –renowned label Get Physical in the early 00s. Lets see what creative dish this duo brings to the table.

And those of you who have a sweet tooth, and lets face it don't we all, wont have to miss out. The dessert course will be taken care off by the Stil vor Talent founder and Turkish-food-enthusiast Oliver Koletzki. Koletzki, who was discovered by the one and only papa of Techno Sven Väth is going to be coupled up with the team from Schneeweiß, who are known for their extremely creative and modern touch on the classical alpine-style cuisine. So mixing those diverse levels of creativity are ideal circumstances for ending this culinary journey with some sweet treats.
After the big feast, to not deprive you of hearing bEAT Berlin's DJ's play with something other than pots and pans, we are happy to get the after party started. For no more than 10 Euro we hope our less-foodie-more-techno friends are going to come join us on the dance floor to listen to what these guys do best. On top of that the event agency Deep Motel is going to be serving us "a real british mint", Dave Seaman, who is going to be playing the house-floor supported by Kaiser Souzai and Daniel Rajkovic.
And to make sure that our guests don't go thirsty our pals at Vöslauer have thrown in a "water flat rate" which is included in the 39EUR five-course-menu ticket. But don't worry you don't have to survive on water alone, for only a couple more euros there is going to be Pilsner Urquell beer and Reingold's elaborate Sensorik-Drinks. Sensorik-Drinks are healthy fruit and veggie smoothies, to be enjoyed either with top-quality special edition rum from Havana Club or non-alcoholic. The guys bringing the cherry on top of our culinary innovation to you are Schleckdruff, who are serving mojito-, gin and tonic- and Moscow mule- flavoured "Frozen Drinks" (with an alcohol content of 11, 5 percent by volume). To add a little bit of an exotic, cultural touch to the night, we are happy to be offering you some of the best premium sake you can get your hands on outside of Japan by ENTER.Sake. ENTER.Sake is a boutique sake collection curated by musician and DJ Richie Hawtin, who has also been a devoted sake connoisseur for more than 20 years. The four 2015 top-quality premium sake are going to be presented by sake sommelier and DJ ANRI, whose skills behind the decks you will get to enjoy as well as her thorough sake knowledge.
And to add another approach apart from the enjoyment of the best DJ's, restaurateur's, food and drinks, by purchasing your menu-ticket you can also help your fellow human beings. When purchasing the ticket you can chose to spend a few euros more and donate the excess amount to the charity organisation " Brot für die Welt"!