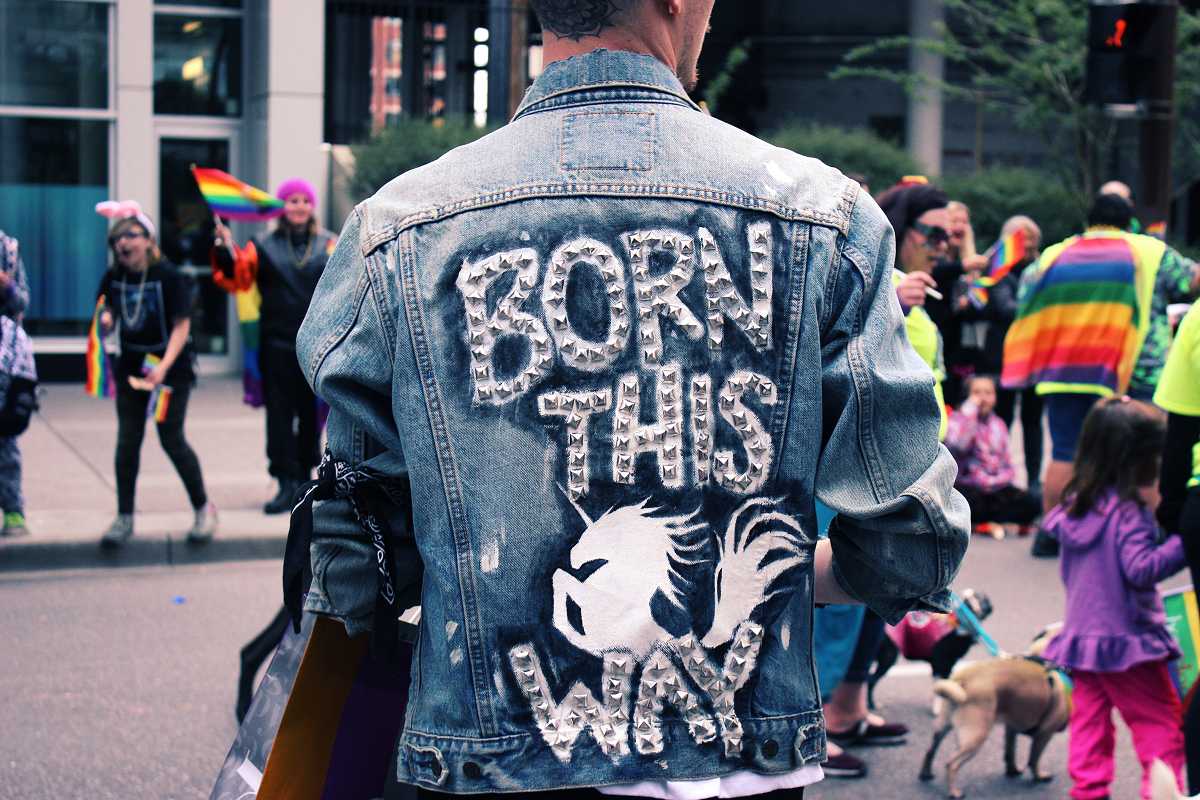 Hier findet ihr alle Infos zur Demo. Weiter unten folgen die Parties.
Am 28. Juli 2018 geht Berlin zum 40. Mal zum Christopher Street Day auf die Straße um für die Rechte von LSBTTIQ* zu demonstrieren und die bereits erkämpften Erfolge zu feiern: CSD in Berlin ist Politik und Party.
On July 28, 2018 the 40th Berlin Pride will take place to fight for the rights of LGBTIQ+ and to celebrate the aims that we have already achieved: Berlin Pride means politics and party.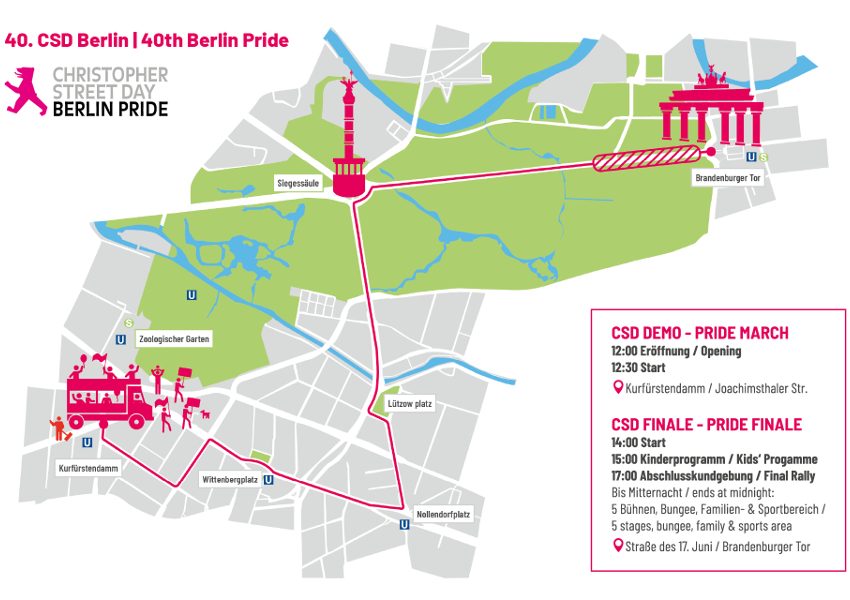 DEMO
28. Juli 2018 CSD | Pride July 28, 2018
DEMO 12:00 Kurfürstendamm
FINALE 14:00 Brandenburger Tor
Demo-Route für den 40. CSD Berlin am 28. Juli 2018
Startpunkt Kurfürstendamm/ Ecke Joachimsthaler Str. -> Augsburger Str. (!) -> Nürnberger Str. (!) -> Tauentzienstr. -> Wittenbergplatz -> Nollendorfplatz -> Lützowplatz -> Siegessäule -> Straße des 17. Juni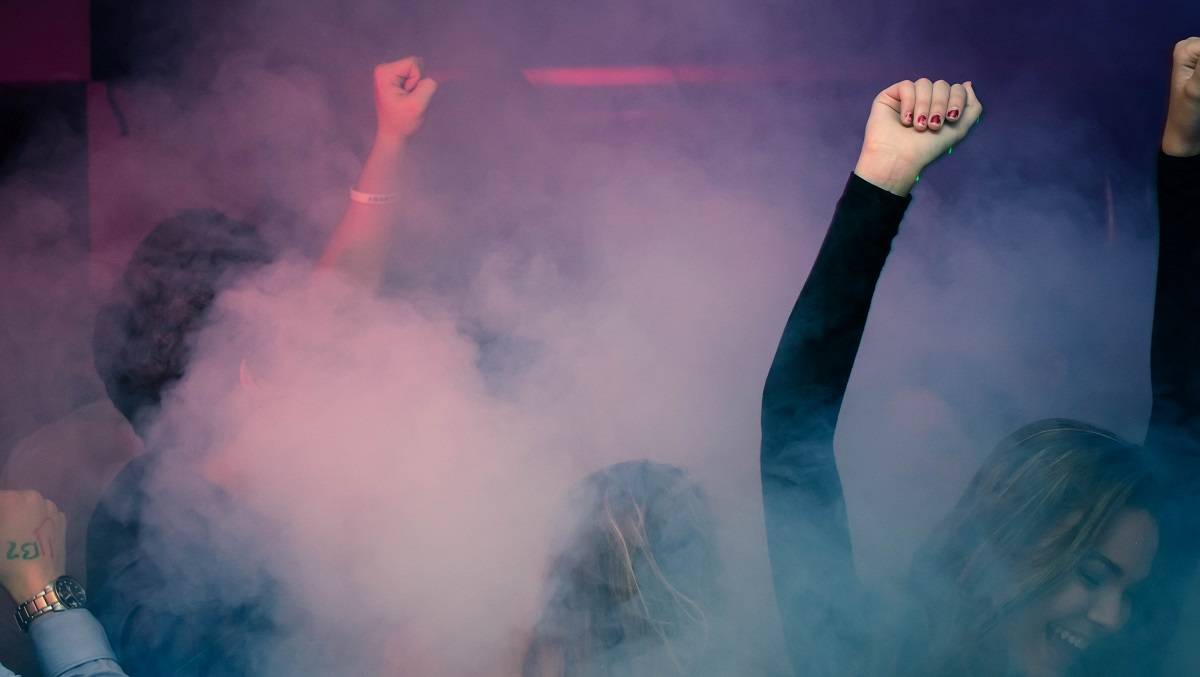 PARTIES zum 40. CSD Berlin
---
FREITAG 27. JULI
---
Revolver Party | OFFICIAL
Freitag, 27. Juli – 22 Uhr / Friday, July 27 – 10 pm
@KitKatClub, Köpenicker Str. 76, 10179 Berlin
LINE UP:
Ben Manson, Moussa , dj aleXio, Marcel db, Guy Williams, Maringo, Matthias Pohland aka Tiasz, Asaf Dolev, Annie O, Mr. Fonk
---
…………………………LISTINGS…………………………
Grime Box with Magda, Dorian Paic and Marc Schneider at Griessmuehle
Krake Day III: Undertow & Label Boutique at Urban Spree
Italo Cosmic Aperitivo at Prince Charles
Italorama Bar at Berghain | Panorama Bar | Säule
Clubnacht with Matchy, Kotelett & Zadak at Burg Schnabel
Henriette House /w. Ejeca, Awanto3, Peak & More at Salon Zur Wilden Renate
Klubnacht with Heidi, Rampue, Oskar Offermann and More at [ipsə]
…………………………LISTINGS…………………………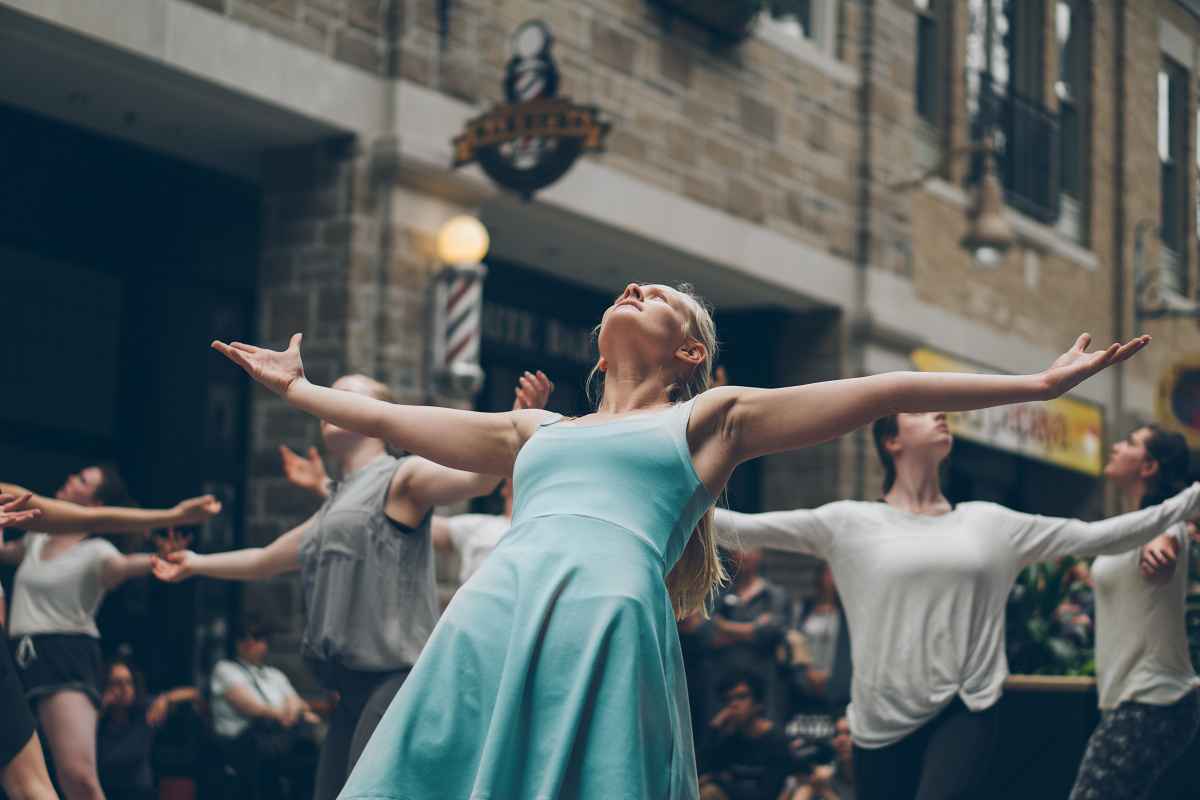 ---
SAMSTAG 28. JULI
---
B:east PARTY PRIDE / CSD XXL | OFFICIAL
at Polygon Club & Garden
Doors open 22pm till 10am
(Pre Party VIP BBQ at the Garden with Djs from 18pm with Shuttle Busses from Schöneberg)
LINE UP:
Westbam, Pagano, Ben Manson, Rony Golding, Alan Oldham, Lady Blacktronika, Moussa Barcelona, Brett Knacksen, Tony Bruno, Maringo, Gavio Xamps, Asaf Dolev, AlexioDj, Kai Berlin, Guy Williams, Marcel db, Tiasz, Sarah Wild, Annie O, Yosh Houzer Dj, Sultonic, Ptoile, Marc Lange
UNITY  | OFFICIAL
Samstag, 28. Juli – 22 Uhr / Saturday, July 28 – 10 pm
@Funkhaus Berlin, Nalepastr. 18, 12459 Berlin
LINE UP:
Monika Kruse, Dapayk & Padberg LIVE , Marc Miroir, Aerea Negrot Set & LIVE Vocals
, Gloria Viagra, DJ Berry E., Handmade, Katy Bähm, Deepneue, Stella deStroy, Esther Silex, Fixie Fate, Max Del Principe, Charlet C.House, Leto van Long, Dennis Bigell, Mutti
Tristan Rehbold, The Real Housewives Of Neukölln, Phil Plastie, Bambi Mercury, Jade Lee
LIQUID  | OFFICIAL
Samstag, 28. Juli – 21 Uhr / Saturday, July 28 – 9 pm
@Spindler & Klatt, Köpenickerstr. 16-17, 10997 Berlin
Lesbenparty
trans*, bi, straight & queer women and best friends welcome
DJ Blues (Women Pleasure Party CSD Köln)
DJ GinaG (Köln)
DJ Sara Moshiri
DJ Marsmaedchen
u.a.
Action & Surprises
---
…………………………LISTINGS…………………………
O MATO – Island Festival – Berlin at Insel Lindwerder
CSD Klubnacht at Berghain | Panorama Bar | Säule
Krake Festival Day IV & V: The Kraken at Griessmuehle
Die Drei Freizeichen – Codename: Sommerloch at Mensch Meier
He.She.They at Watergate
Room 4 Resistance Pride at ://about blank
All Day I Dream of Berlin at Haubentaucher
Staub at ://about blank
Disorder Series Hosted by Bipolar Disorder  at OHM
Techno Rave mit deKai at Der Weiße Hase
…………………………LISTINGS…………………………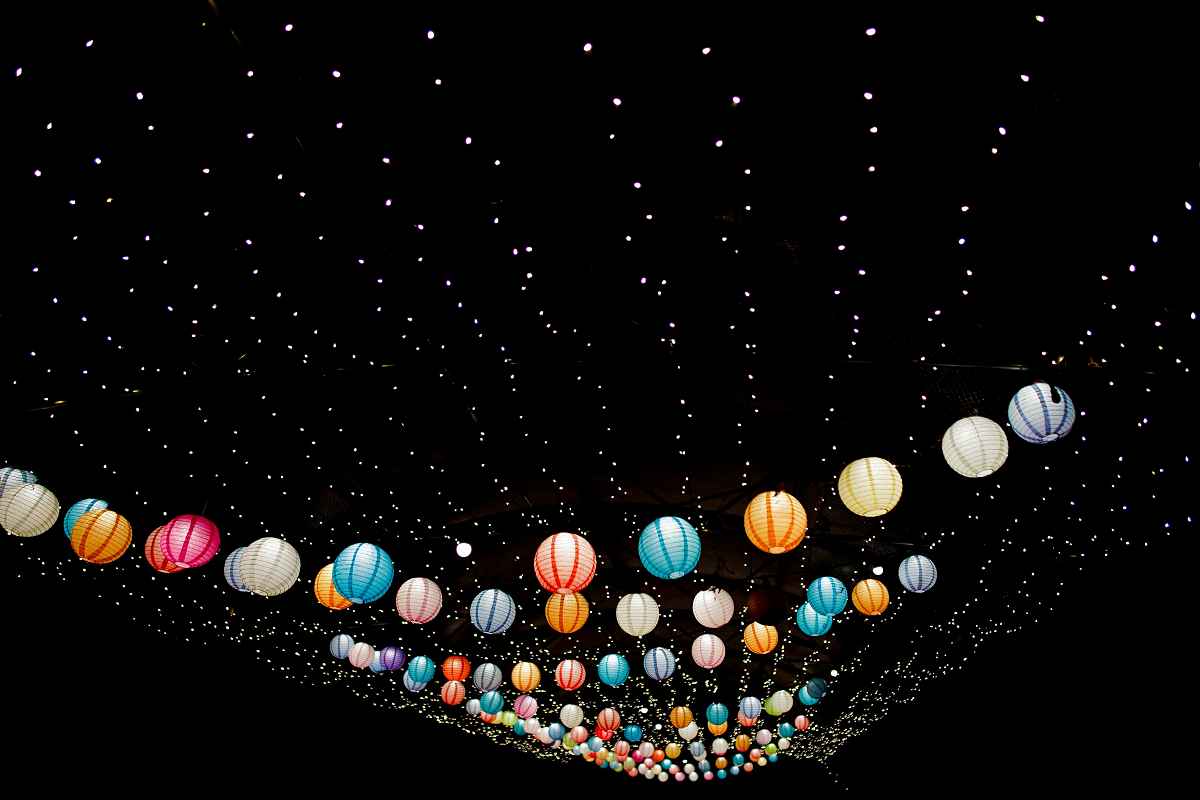 ---
SONNTAG 29. JULI
---
Berlin Pride Closing Party  | OFFICIAL
POLYGON CSD Open air
Sonntag, 29. Juli – 10 Uhr / Saturday, July 28 – 10 am
@Polygon Club & Garden, Wiesenweg 1-4, 10365 Berlin
MENtabolism Berlin Pride CSD 2018 official closing Party  | OFFICIAL
at Polygon Club & Garden
Doors open at 22pm – 9am
---
…………………………LISTINGS…………………………
Hippie Dance Open Air /w. Pachanga Boys, Sascha Funke at Else
Oscillate Garden Special at ://about blank
Krake Festival Day V: The Kraken at Griessmuehle
Sonntagsklub Pres. Vivus Showcase at AVA Club
Bushwig Berlin 2018 at [ipsə]
Watergate Open Air at Sage Beach Berlin
Deep House Yoga – Summer Vibes at Radialsystem
…………………………LISTINGS…………………………
DEMO
39. CSD Berlin: Samstag, 22. Juli 2017
Eröffnung Ku'damm 12h, Start der CSD Demo 12:30h
Ankunft Brandenburger Tor ca. 15-17h, dort CSD Finale ab 14h bis Mitternacht
WAGEN
Wagenreihenfolge
(48 Vereine/Gruppen/Firmen mit 58 Fahrzeugen)
Block leise:
1 Berliner CSD e.V.
2 Jugendnetzwerk Lambda e.V.
3 ITALIANI PRO GAY A BERLINO
4 Quarteera e.V.
5 VelsPol Berlin-Brandenburg e.V.
6/6a-e Jugend gegen Aids e.V.
7 Berliner Aids-Hilfe e.V.
8 Queeramnesty Berlin
9 Annemieke van de Neuk & Beatrice van Kampen
Block laut:
10 OUTtv Media B.U. / Berliner CSD e.V.
11 106.4 Pure FM
12 Vattenfall Rainbow Network
13 Vivantes – Netzwerk für Gesundheit
14 LSBT-Arbeitskreis im DGB-Bezirk Berlin-Brandenburg
15 GMF / Unity Pride
16 Lesben und Schwule in der BVG (LSB)
18 Techno Türken e.V.
19/19a-c blu media network GmbH & Mercedes Benz
19d Pulse of Europe
20 Julian F.M. Stoeckel
21 queer:seite
22 Deutsche AIDS-Hilfe e.V. ICH WEISS WAS ICH TU
23 Berlin LGBTI* Netzwerk der Siemens AG
24 Lesben und Schwule in der Union (LSU Berlin)
26 Junge Liberale Berlin
27 Fraktion DIE LINKE. im Bundestag
28 BLF e.V., EASTER BERLIN
29 different people e.V.
30 L'OREAL Diversity Komitee
31 LAG QueerGrün von Bündnis90/Die Grünen Berlin
32 Gemeinsam mehr e.V. und Radio Queerlive
33 Vodafone Germany LGBT & Friends
33a priDE Germany & TLC
33b B.Proud – Booking.com
33c Fa. Dzambic
34 BRUMMI by SANDRO
35 Piratenpartei Berlin
37 PROUT AT WORK-Foundation & Rainbow Auswärtiges Amt
38/38a SPD Queer /SPD Landesverband Berlin
39 Deutsche Bank AG | dbPride
40 United in Pride (eBay)
40a United in Pride eBay Kleinanzeigen
41 manCheck, Schwulenberatung Berlin gGmbH
43 Evangelischer Kirchenkreis Berlin Stadtmitte
44 Schwulenberatung Berlin
45 Pride@SAP
46 PayPal Pride
48 Bründel Bondage Ball & Jan Ehret
49 Bunte Vielfalt e.V. / Revolver Party
Techno Türken Wagen CSD 2017
CSD TRUCK 2017 MonaLisa&the Poodle Day Club
Bründel Bondage Ball & jan.ehret Truck auf dem CSD Berlin
B:EAST CSD TRUCK (pres. by Revolver PARTY & LEX Event Trucks
106.4 pure fm mit Teufel & Get Physical @ CSD Berlin 2017
Mit dem Motto "Mehr von uns – jede Stimme gegen Rechts!" zeigt der Berliner CSD in diesem Bundestagswahljahr klare Kante. Um der Vielfalt der Teilnehmenden gerecht zu werden, wird der Demo-Zug wieder in zwei Blöcke geteilt: einen für Fußgruppen und "leisere" Fahrzeuge, und dahinter einen "lauten" für die großen Trucks mit den fetten Bässen. Zwischen 15 und 17 Uhr erreicht die Demo das CSD Finale am Brandenburger Tor: Die Abschlusskundgebung auf der Straße des 17. Juni ist eine riesige politische Party mit vielen Ständen, mehreren Bühnen und einem breiten Programm aus Kultur, Politik und Musik, wo die Teilnehmenden und Besucher*innen den CSD bis Mitternacht ausklingen lassen können.
PARTIES
UNITY Pride Berlin 2017 | Official Berlin CSD MAIN PARTY im Funkhaus Berlin
Funkhaus Berlin
Nalepastraße 18, 12459 Berlin
L I N E U P
–––––––––––––––––––
Boys Noize
Miss Peppermint
Ellen Allien
Layton Giordani
Ben Manson – Dj & Producer + Rony Golding
Curses
Maringo
Sherry Vine
Gloria Viagra
Brett Knacksen ( Artist Page)
DJ Berry E. [Hollywood Tramp]
Katy Böhm
Deepneue
Stella deStroy
Ployceebell
THE WEEKENDER MAIN EVENT
––––––––––––––––––––
In diesem Jahr wird die offizelle Abschlussparty des CSD Berlin die größte Gay-Party, die Berlin je gesehen hat. Unter dem Namen Unity vereinen sich die großen Labels B:EAST, GMF, Melt, Pornceptual und Revolver. Die neue Location, das Funkhaus Berlin in der Nalepastraße, mit der großen Shedhalle mit Playground und Empore, dem Kultursaal, der Kantine und einer tollen Open-Air-Area direkt an der Spree werden Platz für bis zu 4.000 Gäste in beeindruckender Atmosphäre bieten. Wie im letztes Jahr wird es einen Festival-Pass für Revolver am Freitag, Unity am Samstag und GMF am Sonntag geben.
After Show Party X 11 Years Exquisite Berlin im Suicide Circus
Suicide Circus Berlin
Revalerstr. 99, 10245 Berlin
LINE UP
Harvey McKay (drumcode / cocoon / soma)
Oliver Deutschmann (innervisions / soma / gknstr)
Eric D. Clark (whirlpool productions)
Femanyst aka Lady Blacktronika (underground quality / sound black recordings)
Tigerskin *live* (katermukke / suol / mood music)
Channel X (stil vor talent / bar 25 / dantze)
Dole & Kom (3000° / nervous rec. / relief rec.)
Hintergrundrauschen aka HGR (tresor.berlin)
Michael Placke (exquisite-berlin / encore.une.fois / sh!tlabel)
Lilly Deupré (exquisite-berlin / encore.une.fois / sh!tlabel)
Yosh Houzer Dj (revolver / moonday houze club)
OPEN AIR + INDOOR FLOOR + DARK ROOM + CHILL FLOOR
SchwuZ CSD Party
SchwuZ
Rollbergstr. 26, 12053 Neukölln, Berlin, Germany
Best Of SchwuZ – Pop, House & Retro
POP:
Jurassica Parka
Jacky-Oh Weinhaus
Anna Klatsche
Destiny Drescher
HOUSE:
Dana Ruh
ROTCIV
Mike Starr (Official)
RETRO:
DJ Modeopfer
Doris Disse
Didi Disco
♥ Special CSD Popkicker-Show by Absinthia Absolut, Candy Crash & Bambi Mercury
♥ Candy-Girl: Kristelle Airlines
♥ Obstmädchen: Hllywd
Auch 2017 sorgen wir wieder für einen angemessenen musikalischen Ausklang des Feiertags – mit Resident DJs unserer regelmäßigen Parties und den Star(r)-Gästen Mike Starr, Rotciv und Dana Ruh auf dem House-Floor! Abgerundet wird der Abend von einer special Popkicker-Show um 2 Uhr sowie den bezaubernden Hostösen Kristelle Airlines & Hllywd.
CSD-Afterparty mit Nina Queer
Ritter Butzke
Ritterstrasse 26, 10969 Berlin
+++ CSD SPECIALS +++
• Der schönste Darkroom der Welt
• Swimming Pool Area
• Pizza & Grill im Hof
• Drag Show mit Nina Queer, Mataina Ah-Wie-Süss, Melly Magic
• Live on Stage: Javi Velaro & Andy Star
ELEKTRONISCH:
Spencer Reed
Divinity
POP FLOOR:
Magic Magnus
SugarBros
Leberwurst
Influx_
+ Special Guest: Nude & Boner-DJ "Diego Summers"!
Zum CSD befindet sich die Stadt jedes Jahr aufs Neue im regenbogenfarbenen Ausnahmezustand. Man muss schon gründlich suchen, um in Kreuzberg einen Ort zu finden, an dem NICHT gefeiert wird. Da muss man als Club schwere Geschütze auffahren, aber Spaghettimonster sei Dank, haben wir Partygeneralin Nina Queer und ihren 1. Offizier Magic Magnus an unserer Seite! Die beiden werden uns im Kampf um die beste CSD-Sause mit der vereinten Feuerkraft von SCHAAAMLOS, IRRENHOUSE und ROSE KENNEDY unterstützen. Neben einem amtlichen Tanz-Bataillon, erwartet euch eine Drag-Show, eine riesige Hüpfburg und ein neuer Darkroom – zur Feier des Tages in XXL. LGBT, Heteros, Objektophile und alle dazwischen – angetreten!
Savoir Vivre CSD afterparty
Beate Uwe
Schillingstr. 31/Ecke Alexanderstr, 10179 Berlin
Unsere beliebten DJ's und Künstler:
modular systems
Nero b2b Henheimer
tomtomgroove
Zusan
Zootrop LIVE VISUALS
Euphorisch, Liebevoll, Aufgeregt, freuen wir uns, euch ALLE zu empfangen im Beate Uwe für eine dritte Savoir Vivre! Wie immer ein gepflegtes Techno line up + Unglaubliche Visuals und ein toller Bar Staff !
Buttons CSD 46 Hour Edition
://about party
Markgrafendamm 24c, 10245 Berlin
46 Hour Special ~~~ Christopher Street Day Edition!
HOUSE / TECHNO / OPEN AIR GARDEN / DAYTIME DARKROOM
Friday night
Saturday openair
Sat night
Sunday openair
Long awaited and requested return of slutty mud wrestling for charity. New miracles await in the garden.
LINEUP:
Prosumer
Paolo Di Nola
The Carry Nation
Lady Blacktronika
Clark Price
Akirahawks
Geoffrey LaRue
Sunset Motherfucker
Fred P (6 hour set)
Anabelle Gaspar
Alex Cliché
Clara 3000
Jacob Meehan
NHK (live)
Oliver Way
L.Sangre
Manella aka Dahraxt
Shingo Suwa
Madalba
DJ Mori
Stanley Schmidt
Symbiotikka at KitKat Club Berlin – CSD Special
Köpenicker Strasse 76, 10179 Berlin
♫ Electronic Music Entertainment ♫
Superstrobe
Marcel db
DJ Jordan
DNNS
Free Dresscode – Sei eigen, kreativ, sexy, verrucht, kinky, besonders, oder verrückt. Aber niemals langweilig!
Glitter & Make up Station
Chill Area
Entry: 10,- €
CSD Klubnacht
Berghain | Panorama Bar | Säule
70 Am Wriezener Bahnhof
Line-up /
Berghain:
Anetha
Bella Sarris
Ben Klock
Boris
Lena Willikens
Norman Nodge
Relaxer
Steffi
Panorama Bar:
Looky Looky (live)
Ash (GE)
Discodromo
I-F
Kim Ann Foxman
Massimiliano Pagliara
nd_baumecker
Virginia
Volvox
Es waren vor allem schwarze street queens wie Marsha P. Johnson und Sylvia Rivera, die sich in den frühen Morgenstunden des 28. Juni 1969 die andauernden Schikanen der New Yorker Polizei nicht mehr gefallen lassen wollten und nach einer weiteren Razzia in der Homobar The Stonewall Inn der Staatsmacht ein vorher undenkbares 'Fuck you' entgegen schleuderten. Dieses radikale Aufbegehren hat auch (oder gerade) 2017 noch eine ungeheure Relevanz und sollte nicht vergessen werden, wenn wir wie jedes Jahr zum CSD die für uns besten Aspekte musikalischer 'queer culture' zelebrieren. Looky Looky zum Bespiel ist das neue Projekt von Jeffrey Sfire und Ian Clark, beide in Detroit lebend. Sie trafen sich bereits Ende der 90er Jahre, als Ian zusammen mit Adam Miller von ADULT. als eine Hälfte von Le Car eiskalten Electro produzierte. Looky Looky's erste Platte 'Flamingo Boots' verbindet nun Sfires Italo Discokompetenz und Clarks messerscharfe Basslines zu einem superben Italo-Electro-Hybrid. Und auch ein kurzer Blick auf's restliche Programm zeigt: das kann ja nur heiter werden.