13.7.2018 Panama Open Air Festival 2018
After having celebrated two years as a 2 Days Festival yet, we can't wait to present the Panama Open Air Festival 2018 for the 3rd time. You can expect international top acts on even more stages, a magnificent festival area, finest Techno, House and electronic dance music.
for more infos: www.panamafestival.de
_____Save the date: 13. & 14. July 2018_____
◉ Fr. 13. July: 1st Day, Start 15 Uhr
◉ Sa. 14. July: 2nd Day, Start 12 Uhr
5+ Stages with more than 80 electronic top Acts, a VIP AREA, our lovely Forest Stage, Aftershow Parties and much more!
_____Ticket Infos_____
BLIND-TICKETS*: from Tuesday 01. of August 2017
*Available for a limited time.
EARLY BIRD: — MORE INFO SOON–
REGULAR SALE: — MORE INFO SOON–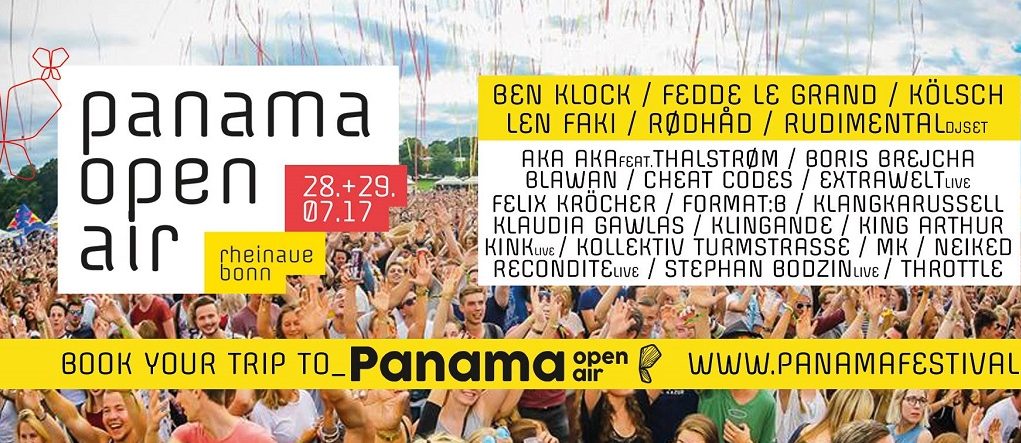 28. Juli – 30. Juli Panama Open Air Festival 2017
Rheinaue Bonn
Herbert-Wehner-Platz, 53175 Bonn
Das Panama Open Air birngt House und Techno zu euch, und das in einem der schönsten Parks Deutschlands. Der Freizeitpark Rheinaue in Bonn ist ein 160 ha großes, als Park angelegtes, Naherholungsgebiet. Das Panama Open Air lädt über siebzig der besten DJs der Welt in diese Idylle. Erwartet werden Acts wie Boris Brejcha, Ben Klock und KOLLEKTIV TURMSTRASSE. Zwei Tage lang könnt ihr den Sommer feiern und euch vor fünf verschiedenen Bühnen den Wolf tanzen. Das Panama Open Air Festival zählt zu einem der beliebtesten Festivals der elektronischen Tanzmusik in der Region und das nicht ohne Grund, denn trotz des fetten Line ups ist das Event familiär geblieben.
_____FULL LINE UP 2017_____
Fedde Le Grand
Rudimental (DJ SET)
Cheat Codes
Kölsch
Recondite (LIVE)
Stephan Bodzin (LIVE)
Ben Klock
Len Faki (OFFICIAL)
RØDHÅD
Klangkarussell
Klaudia Gawlas music
KOLLEKTIV TURMSTRASSE
Extrawelt (LIVE)
KiNK (LIVE)
Klingande
Blawan
AKA AKA ft. Thalstroem
Felix Kröcher
Boris Brejcha
Format: B
Hidden Empire
Bebetta
Pappenheimer
Kerstin Eden
drumcell
Torsten Kanzler
MK
Throttle
King Arthur
Neiked
Answer Code Request
Carlo Ruetz
Junge Junge
Micha Moor
KlangTherapeuten
Animale
Luca Schreiner
Dekon Music
ASK:ME
Bedrud
Mahssa Dadari
Uchi
Hillmann & Neufang
Chico Chiquita
Azab & Wendel
SupermArco
Marcel Demand
FLO4D
Audano
Tom & Dexx
Justluke
Timbo
Shippo
TLMN
Henrik Piroth
Verdial
Yves Montblanc
DJ Camic
Davis
Caox
Alex Hövelmann
Fabian Farell
Twinx
DJ Pheel
DOMPI
Wolfson
Toni Palermo & Ben Cisco
Somniloquist
Alex New
youlaike
Ongun Tutuncu
Adriano Rosso & Chris di Perri
Klaeser & Karrenberg
Sebastian Jaensch
Apropos Music