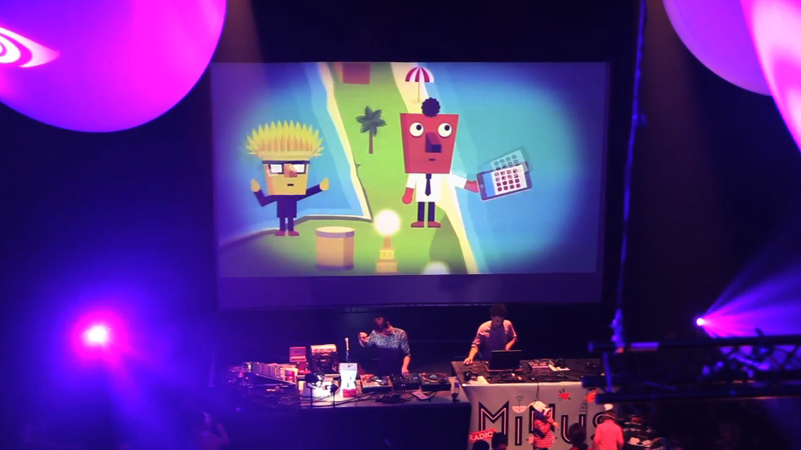 URBAN SPREE
Revaler Str. 99
10245 Berlin
For those never tiring, the Festival culminates in a big Pictoplasma Birthday Party at Urban Spree. Explore the joyous performative strength of characters in motion with a live concert by Big Butter (US), the duo of Tim Biskup and his brother Mike, and the premiere of Radio Minus Senior Sound System, brought to you by nobody less than Gangpol & Mit (FR).
Live: Big Butter
Premiere: Gangpol & Mit – Radio Minus Senior Sound System
DJs: Neele & Liebkos (Bingo, G-Edit, HW Rhapsody)
Big Butter was formed in 1986 by brothers Mike and Tim Biskup in a fig orchard in Clovis, California. With the advent of inexpensive multi-track cassette studios the duo pumped out some truly strange music. Big Butter's first vinyl outing caught the ears of their heroes, San Francisco's freakish legends The Residents, whose Ralph Records picked up Big Butter releases for distribution and mail order. After four full-length albums, a slew of singles and nearly thirty years of noodling Big Butter continues to focus heavily on experimentation and abstract ideas rather than defining a particular sound.
bigbutter.bandcamp.com
Gangpol & Mit is a audiovisual duo that casts colourful and geometrical characters into a weird and wonderful world of digital pop. Building on their trips around the globe, from the bowels of deep France to the shores of South-East Asia, they have turned their impressive collection of outsider records into a brand new project – The Radio Minus Senior Sound System. Expect rare jewels of heavy acoustic pressures, deviant clubbing, lascivious exoticism and explicit lyrics in a brand new video set-up.