Can you tell us about your background and how you first got started in music? How did you first become interested in electronic music and what drew you to it as a medium for self-expression?
I was into electronic music from a very young age, listening to Depeche Mode and Soft Cell tapes that my older sister had. My first 'band' was when I was 12 years old with my friend Andy from school. He was the singer and I was the keyboard player, he was more into Depeche Mode and I really wanted to be in the Pet Shop Boys, so we sounded somewhere in between, but with very cheap Casio keyboards. We had a lot of fun.
Who are some of your biggest musical influences, both within electronic music and outside of it? How have these influences shaped your sound and approach to creating music?
Well, the classics like Depeche Mode, Yazoo, Erasure and Kraftwerk of course, from an early age, but I also really like Paul Simon, Stevie Wonder, and a whole load of non-electronic music. I think it's why the Rex The Dog music is often a bit pop.
Can you walk us through your creative process for writing and recording a new song? How do you typically begin a new track, and what are some of the key elements or techniques you focus on as you develop it?
I might cut up vocal samples or some vocal recordings I've made as a starting point, or I'll limit myself to one or two instruments only. I find it quite easy, on the whole, to come up with ideas, but the next stage – completing the production and making it sound professional – I still find quite hard.
Can you tell us more about your upcoming release on Kompakt? How did Change This Pain for Ecstasy come about and what inspired you to create it? What was your approach to making it and what do you think sets it apart from your previous work?
In the late 90s I released music under the name JX. Back then I was mainly working with very direct synth riffs and very prominent vocals and aiming to generate excitement from the combination of those elements. With Rex The Dog, so far, I have taken a more instrumental approach, exploring sounds and analogue synths more than vocals. This new record feels a little bit like a Rex The Dog / JX hybrid to me. I like that.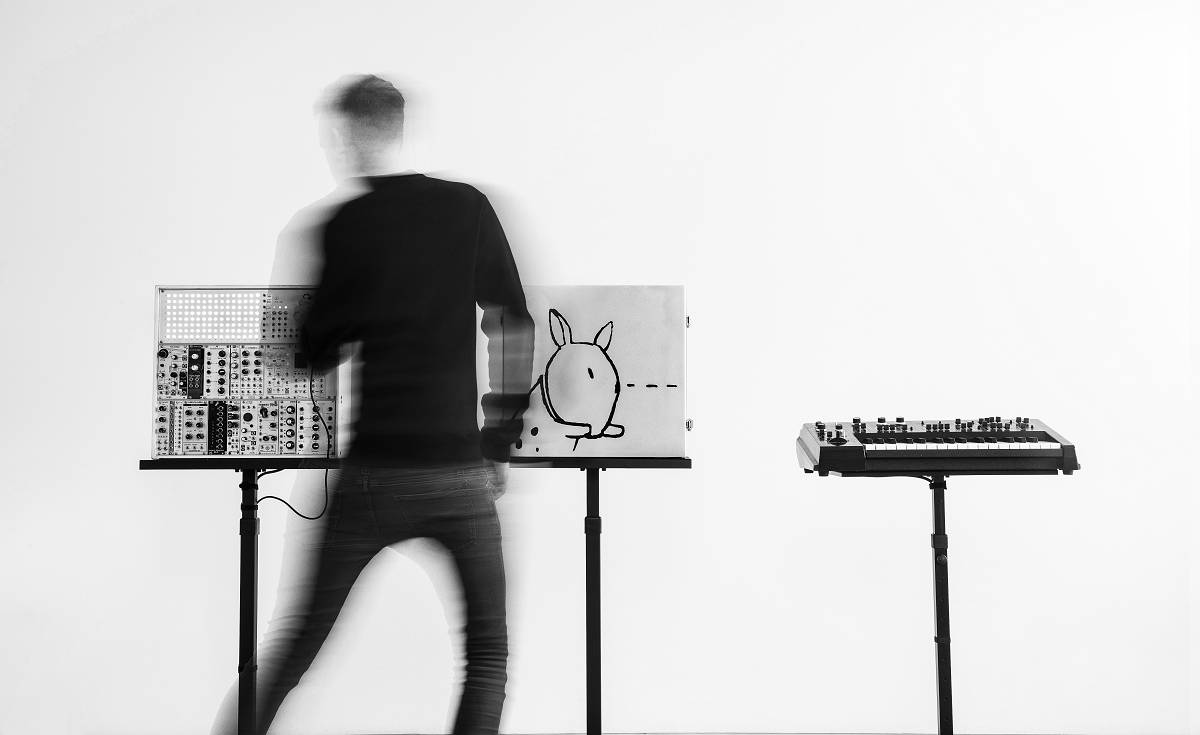 What has been the highlight of your career so far? Can you talk about a specific moment or accomplishment that stands out as particularly meaningful to you
One moment which I think made a big difference for me was when I was on the line up for Creamfields Andalucia. I wasn't expecting to play this slot, but I closed the festival immediately after The Prodigy, just as the sun was coming up. I've never played to so many people, before or since, and after that I played in Spain every two weeks for a couple of years just because so many people liked me from that one performance.
Can you tell us about any upcoming projects or collaborations you have in the works? Are there any new directions or sounds you're exploring in your music right now?
I still really love raw and simple electronic house and so I'm planning to make more of that, but I am also working on some more vocal ideas which could become something a little more dance/pop – I still love 90s dance. I'm also trying some collaborations with producers I admire, but it's a little early to say where that will go.
As a musician, what message do you hope to convey through your music? What themes or ideas do you find yourself returning to again and again in your work?
I think it was Pet Shop Boys who said that they liked music that makes you feel better about feeling sad. I really identify with that, although it's been more through keyboard parts than the vocals so far. My vocal ideas are generally heading in this direction though.
Can you tell us about any challenges you have faced in your career and how you overcame them? Have there been any specific obstacles or difficulties you've had to navigate as an electronic musician?
I have always found it hard working completely on my own. As I mentioned already, ideas come quite freely but then I struggle to find the right context for them or to make them properly work. When I was doing JX in the 90s, I was very lucky to have a great A&R person who was also a producer and 'club head'. He would sort out the arrangements and help create the final version. I've not really had that type of partnership since and I miss that a bit.
How do you see the music industry evolving in the next 5 years? What changes do you think we'll see in terms of technology, distribution, and audience engagement?
I'm not the right person for predictions, but perhaps AI in music will be a great thing, or a medium useful thing, or perhaps it will ruin everything. See, I'm not great at predictions!
What advice would you give to aspiring musicians trying to make it in the industry? Are there any particular tips or strategies you've found to be particularly effective in building a career as an electronic musician?
My career has so far been mostly haphazard. Every good thing has happened almost by mistake, and the only real constant has been that better things happen when you keep working and learning. Encourage your curiosity, get out and about. Follow what is fun for you. This is advice I'm also giving myself right now!
What's next for you?
More haphazardness!
Rex The Dog 'Change This Pain For Ecstasy'
Released 21st April on Kompakt
The formidable Rex The Dog returns with his first single for Kompakt in three years, Change This Pain For Ecstasy, a slow-burning disco-glitter stomp that's charged with analogue energy. Pushing his self-built modular hardware set-up to its limits, Change This Pain For Ecstasy is taut and thrilling, stripped-back and pulsating, with sweeping chords shimmering through a classic Moroder arpeggio, as a delirious voice sings out a psychedelic raver's plaint for liberation, pleading for you to "take away my sorrow and this pain". Deeply emotional, it's also a masterwork in tension and release, dizzy with snare-rush peaks, and dark, humid valleys where Rex is bound to the patchbay.
On the flipside, Rex gives us Moto, which tickles your ear with cymatic phenomena, its gentle vibrations building, beautifully, into a monster-piece of stealth techno. Rex's DIY synths work overtime as he chases patterns and phases through circuitry,wilding the tones until they erupt into a spray of pointillist pizzicato. The sounds here crackle and corrode, the textures so tantalising, so sensual, you can almost grab hold of them with your hands. It's great to have Rex The Dog back, making livewire, yet deeply human techno, alive and bursting with electricity.
The alias of musician, producer and visual artist Jake Williams, Rex The Dog favours an analogue approach to everything, from his drawings (which are still made using pencil and paper) to his music. Prior to creating Rex The Dog, Jake achieved notoriety as late 90s rave icon JX. His mega-hits, the bombastic vocal bangers 'Son Of A Gun' and 'There's Nothing I Won't Do' are some of the most celebrated of their genre.
Far from being a solely musical venture, Rex The Dog is a visual project. At the same time as launching the first Rex record, Jake created a hand drawn Rex character, which has been used ever since to create all accompanying artwork, videos, visuals (and fiercely coveted merch). Rex has continued to release on Kompakt Records, as well as Kitsuné, Unknown To The Unknown and Southern Fried. As well as his original material, Rex has released selected remixes for the likes of Depeche Mode, Robyn, Fever Ray, Me Me Me and Moby.
Change This Pain For Ecstasy sees the biggest vocal hook ever used on a Rex record and marries the Rex project with his musical roots. The concept for the track was born during the pandemic, when Jake launched a regular Twitch live stream 'Synth Club' – an online synth jam-session which attracted a dedicated community of analogue electronic music lovers. On each episode, Jake would start with a vocal sample, chop it up, fire up the synths, and create something new. This process brought out the pop elements from his JX past, and resulted in a fresh new direction which blends the DNA of JX with the classic Rex The Dog underground sound.