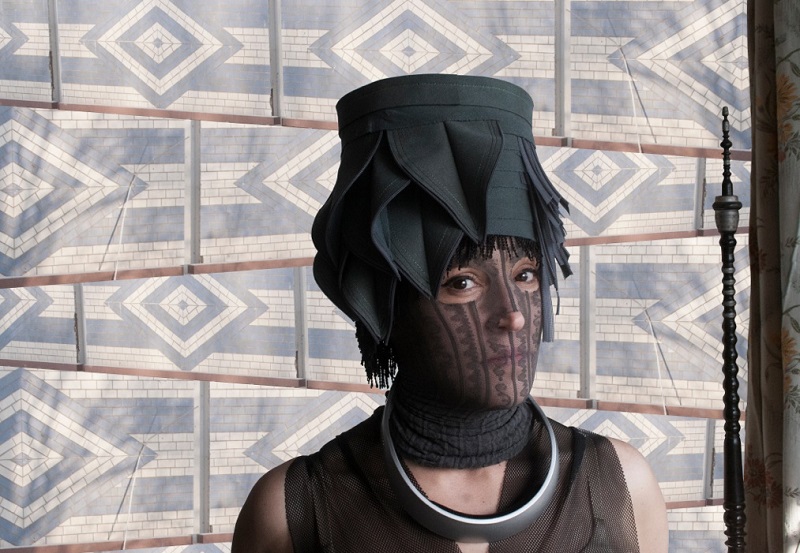 CHICA PAULA (Kalk Pets, Monika Enterprise)
Originally from Santiago de Chile, Chica Paula and her family were exiled to Frankfurt, Germany, when she was 4. Years later her older brother, Martin Schopf aka DANDY JACK, would stay in Germany while Paula returned to Chile. With Martin remaining in Germany throughout the 80's, he was able to introduce Paula to much of the electronic music that strongly influenced her and at an early age she was turned on to electronic music by acts such as DEPECHE MODE, KRAFTWERK, CHRIS & COSEY and CABARET VOLTAIRE.
In the early 90s, attracted and fascinated by the development of what would become techno culture, Paula moved to Berlin. She very quickly became part of the Berlin Party scene and ended up riding the wave of the Berlin techno revolution, making a name for herself as a DJ in the Berlin club and music scene. In 1995, she met GUDRUN GUT, founder of Berlin electronic music collective Oceanclub. Paula joined the collective and got a residency at the legendary Tresor club for the Oceanclub's Sunday night events alongside DJs and producers such as THOMAS FEHLMANN (THE ORB), MIKE VAMP and bands like SUN ELECTRIC. This was only the beginning, and it didn't take long before Paula started getting requests from other clubs both in Berlin as well as further afield. And in 1997, the Oceanclub got a radio show-which still airs Friday nights on Berlin's Radio Eins-, on which Chica Paula is a regular guest DJ.
It goes without saying then that Paula was trained in as good a context as there could be for any technophile: 90s Berlin. She learnt her trade as a DJ playing at locations like Ostgut-Panoramabar (now Berghain), WMF and the aforementioned Tresor. These days, the list has also come to include Watergate, Weekend, Maria and Club der Visionaere. As well as frequent gigs in Berlin, she has played sets far and wide from Detroit to Moscow to Buenos Aires, and of course extensively throughout Europe at places such as Rote Sonne (Munich), Culture Box (Copenhagen), Zukunft (Zürich) and Le Triptyque (Paris) to name but a few. On top of all these clubs, she has played at a wide range of international festivals such as Benicassim, MUTEK, Popkomm, Love Parade and Detroit's DEMF to name but a few. Despite all this notable success on the Berlin and international scene, Chica Paula remains true to her roots and still enjoys playing parties with the Chilean crew when the opportunity arises – for example, with the Ruta5 organization of which she is a founding member.
But Chica Paula is not only a master of the turntables; her expertise extends to production as well. Her first release on Gudrun Gut's Monika Enterprise was a Contriva remix, which came out on their 12" the "Foxy EP" in 2003. Since then she has accumulated an impressive discography of original recordings and remixes. It was together with MAX LODERBAUER from the aforementioned Sun Electric (and more recently MORITZ VON OSWALD TRIO) that she recorded her first album as Chica and the Folder. "42 Mädchen" appeared in September 2003, also on Monika. Exactly 4 years later, the second Chica and the Folder album "Under the Balcony" came out. A 12" "Mixes From The Balcony" was released at the same time featuring remixes by Paula's friend and countryman RICARDO VILLALOBOS as well as, fellow Ruta5 member, Swiss DJ SONJA MOONEAR. Most recently Paula has remixed the likes of MALUCO and DONNA REGINA on the Berlin label Kalk Pets. On top of her work as a DJ, producer, performer and remixer, Paula is currently also active as an advisor on the subject of electronic music to the Goethe Institut in Mexico for whom she is managing a new radio
project.
DISCOGRAPHY As Chica Paula
Remixes:
Roman, "Traffic" (Chica Paula's Super Emo Mix) – Kalk Pets, 2011
Maluco, "Right Time la del Barrio Mix" – Kalk Pets, 2009
Donna Regina, "Playing free" (Chica Paula & Tobias Mix) – Kalk Pets, 2008
Contriva, "Dust" (Chica Paula Mix) – Monika Enterprise, 2003
As Chica and the Folder (Chica Paula and Max Loderbauer)
Releases:
Mixes of the Balcony, feat. remixes from Ricardo Villalobos, Sonja Moonear and Pikaya (EP 12") – Monika
Enterprise, 2007
Under the Balcony (CD, Album) – Monika Enterprise, 2007
Schatulle, feat. remixes from Luciano, Pink Elln, Dinky and Thomas Fehlmann (CD, EP 12") – Monika
Enterprise, 2003
42 Mädchen (CD, Album) – Monika Enterprise, 2003
LOVE CiTY CENTRAL | Graefestr. 91, DE-10967 Berlin | T / F +49 30 6981 9707 / 8 | www.lovecity-central.com