Aaja is a multi-purpose community radio station, event space, record label and bar. Situated in the heart of Deptford at the Snake Pit, the local cultural hub hosts an eclectic mix of radio hosts, DJs and events. Open since 2018, AAJA has provided a space that has nurtured and aided the growth of creative minds and groups within South-East London and beyond.
The Snake Pit
The Snake Pit has reignited the burning flame of Deptford community radio and bar: AAJA. Formerly located in the Deptford Market Yard, AAJA has moved to another local location adjacent to the fabled Bird's Nest. A stone's throw away from Deptford Bridge, the team that brought you one of South-East London's favorite community radio stations is fired up and ready for their next chapter. Co-founder's, event promoters and DJ's Everson & Patch the Whale, welcome you in their new multi-purpose venture.
Now boasting a huge indoor/outdoor venue ideal for Alfresco drinking and dancing, the Snake Pit, a 350 capacity space, will now be serving cold beer, cocktails and programming week-end day events, as well as continuing to broadcast radio on their two channels, 7 days a week. Characterized by the championing of the local musical landscape, Everson and Patch the Whale carry with them years of experience within the field. Alongside them a strong team of like-minded passionate team-players have helped the partners in crime grow the station's output considerably. Over the past two years the number of radio hosts has doubled and AAJA has been involved in outward projects such as Percolate's day festival, Queen's Summer Yard Party and Sisu's all female collective's Ukraine Relief Fundraiser, homeless charity Club 999, and regular warehouse parties at South East London hotspot MOT as well as across the river at The Cause. With the Snake Pit comes greater opportunity to curate events with greater capacity and possibility.
With covered outdoor seating and a large beer garden with guest street food vendors such as the Yeast Brother. The Snake Pit is Deptford's unique open-air venue with the capacity to host promoters and events. Having an extensive network of DJs within the radio AAJA has nurtured strong relationships within the industry and has hosted events and radio shows with the likes of Asquith, Vladimir Ivkovic, RAW SILK, Fabio and Groovrider, Rebecca Goldberg, Jerome Hill, DJ Warlock, DJ October, Gunfinger Food, Frazer Ray and Enchanted Rhythms to name a few. Now, with over 200 hosts, AAJA will be broadcasting live from the Snake Pit every day. Upcoming events will also include appearances from Local Action, World Unknown and La Bonne Music in collaboration with Suspect London, Wolf Music and Phase Transistion.
AAJA's strong sense of community has also championed many up-and-coming DJs as well as promoters which they intend to continue at the Snake Pit. On May 14th they hosted their official launch party with long time local collaborators For the Record which saw Vladimir Ivkovic, Slipped Disc, Mia Lily and TIa Cousins take it away in the new AAJA booth for what was a taste of what summer is all about: sun, quality music selections and outdoor dancing.
Resilience: AAJA's middle and surname.
AAJA opened its doors to all in the Deptford Market Yard in the summer of 2018. From humble beginnings, the South-East London musical hub, tucked under a quaint railway arch in Deptford, quickly grew into a community space where broadcasting, events and laid back food and drinks morphed into a constant evolving home for local creatives. The local bar and broadcasting hub has helped shape and blossom radio and djing capacities for music lovers of all walks of life. From established DJs to people wanting to give radio and djing a try, AAJA's motto has always been: All Welcome.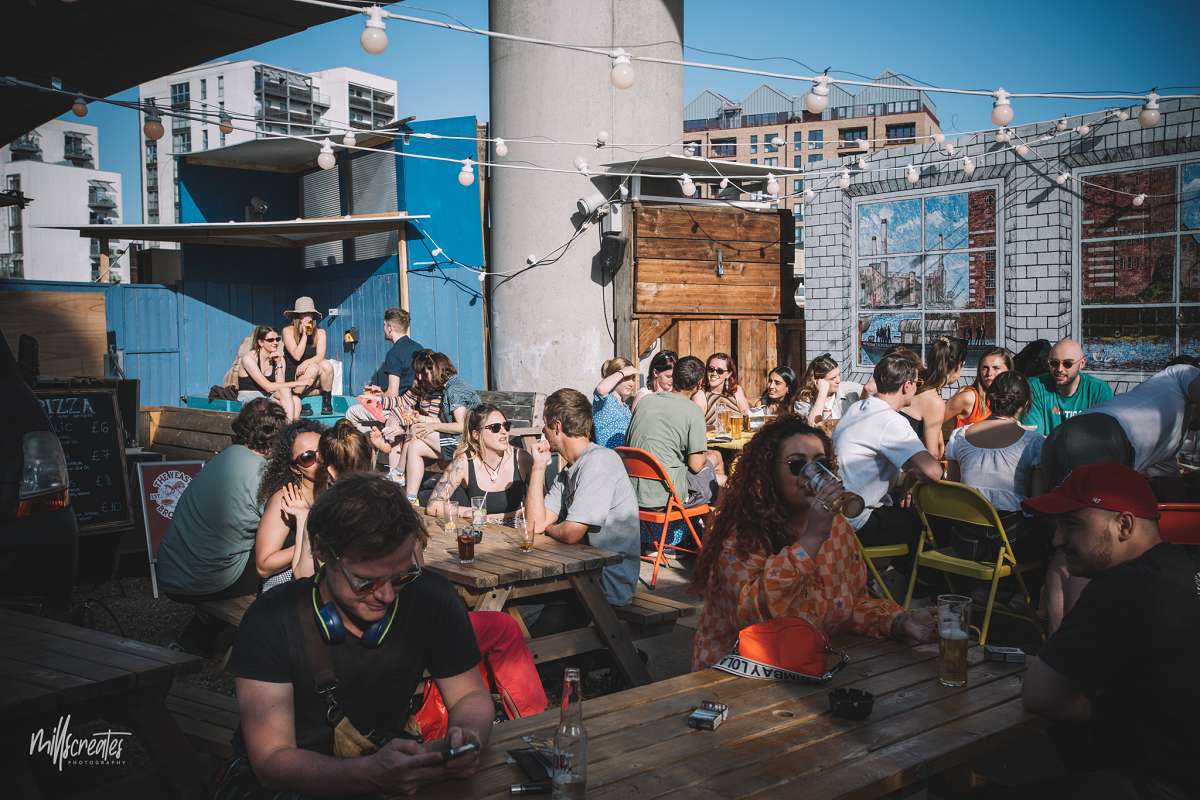 Today AAJA still strives to broadcast music from a diverse range of DJs and Presenters, who showcase and play a wide variety of music genres. From Soul, Rap and Indie Pop to Jungle, Dubstep and Techno. Residents display an immense knowledge and dedication to playing out some of the most exciting music coming out of London and beyond. Events after restrictive lockdowns brought life back into the Arch as local promoters – often AAJA radio hosts – actively brought together local DJs for memorable dances within the Arch.
With the ever-growing concern and issue of gentrification, AAJA has been forced to move from its first home. With many months of uncertainty leading up to the displacement of AAJA, this new spot at the Snake Pit is a sign of relief and illustrates the resilience of the team behind AAJA. Not only have Everson, Patch the Whale and Sian (Bar Manager) been able to find a new spot, they have also been able to find a new temporary home and have also managed to retain all of the paid jobs of the bar and radio staff. What's more is that in the process they have created new roles, as the venue is bigger and have relaunched their music promotion service: Fresh. Some of the amazing people helping to run the space are our Bar Staff – Max, Sirak and Joel – as well as the Radio Station manager Simone who has been given help by Lis, Alfie and Yohan.
Surviving lockdown and relocating has only made the Aaja community stronger. Passion, resilience and drive will ensure this burgeoning music group will become a household name, within the music community of London and beyond. Keep locked, incoming transmission.