Links:
The Zurich-based label Subject To Restrictions Discs caught our attention with their release 'Kraus is the Limit' by the band Dâdalus & Bikarus. Their bio says that it is an independent record label that strives to discover and revive music from the swirl corners of the present and the past. Curiosity was piqued and we sent label boss Dominik André our questionnaire.
How did you come to do what you do? When did the first idea of creating the label came up?
I got into label work in 2016 because my two best friends and I wanted to release the music of a friend on vinyl. No sooner said than done, we sold 500 records with some luck in no time. I had a lot of fun doing this work, so I dug in further and taught myself the craft bit by bit. It's still an ongoing process, but in the seven years since the first record, I have supervised and realised over 30 releases on vinyl. I've been able to learn a lot while making them. After working for several other labels, I took things into my own hands and founded Subject To Restrictions Discs, the only label I am actively running at the moment.
Some statistics, since the label was created, how many releases, how many vinyl and how many packages/parcels have you made/send?
The label was founded in 2019 and by the end of this year, twenty releases will have been released–sixteen of them on vinyl. Depending on the release, the pressing run is between 100 and 300 copies.
From which country do most of your buyers come from?
Most of our artists are based in Switzerland. Therefore a lot of records are sold around here. It's fair to say that the label is not only known in Zurich–where it's based–but also from St. Gallen to Geneva and Schaffhausen to Ticino. Apart from that, Bordello A Parigi sells most of our records. This means that the buyers are spread all over Europe. I am very pleased that the records have even made it to America and Japan.
What is the release of which you are most proud of?
Every release is an exciting process with the artist(s) that I always learn a lot from. I'd prefer to say that I am most proud of the fact that so many artists entrust me and the label with their music and that they are willing to embark on this journey together.
Released last year: XINDL's album 11 was named Album of the Month for October by Groove Magazine.
Can you describe to us what a typical day at the office means to you?
There is no such thing as a typical office day. First of all, my office is usually a café, a train, or a plane. I like to be on the road, and luckily I can do much of my work on my laptop or phone. Generally, there are different phases. Sometimes I'm mainly busy with administration. Putting together reports, keeping Excel sheets up to date, writing invoices, etc. Then there are the preparation and planning phases. That's where I usually plan, together with the artist, what will happen until the release–promotion, production, communication, organising events, for instance. Then, of course, the plans have to be put into action. I write a lot of emails, prepare and post on social media and make a lot of phone calls. Between the computer-heavy work, I meet with the artists for coffee, lunch, or dinner as regularly as possible. For me, that's the part I enjoy the most: learning what they do and finding out how I can help them get people to listen to their music.
Who's in your Team? Are you a Music Producer or DJ?
The label is unique in that we oversee or manage every step ourselves. This is because the know-how is here, but also to get the best possible product when it comes to our own standards. As for the core team, apart from the artists, I am supported by Nadine Lange and Nevesthika Muralitharan in administrative, planning, and event matters. Monelle Aimée Kanza is responsible for the visual identity (until mid-2022, this was Dylan Moore). In addition to the overall responsibility, my job is the external and internal communication, sales, the handling of the vinyl production, and A&R. All in all, we are very well positioned and have a dense network of companies and people with whom we work closely. Like Intakt, our pressing plant, who we can trust 100% in terms of quality and production time. Then we have an excellent sound engineer Isabel from Olo Mastering, who helps us with both mastering and other technical and sound issues. All of our records are cut with the DMM process at Pauler Acoustics and so far every record has sounded A+. At the end of the process is Bordello A Parigi, our distributor, with whom we have worked since the beginning, and of course, the record shops worldwide that pick up each of our releases.
Which distribution channels do you use?
Our records are distributed by Bordello A Parigi in Amsterdam or by us directly.
Did you use youtube and how strong/weak is the impact?
We have a YouTube channel, which has been used relatively passively so far. However, the music can be found on the platform anyway through our digital distribution. So in this sense, YouTube works like any other streaming service, but the payment per stream is worse than with Spotify or Apple Music.
Have you ever helped yourself with buying clicks & plays on SoundCloud?
That's not something that interests me. I'm only interested in numbers if there are people behind them who interact in some way with the music on our label. I regularly see people buying plays or followers, those labels or artists are usually the ones who disappear very quickly because they are not doing it for the right reason.
Where do you find hungry and ambitious artists?
The label is based in Switzerland and I can safely say that we have a very interesting music scene with many talented musicians. So all I have to do is keep my ears open and I eventually come across new music. From time to time I also receive exciting demos, so the music also finds me. But to stay in Switzerland: Many of the active musicians here sometimes don't dare to get in touch with a label or even to show their music. That's why it often takes time and patience until suddenly a studio door opens and you are invited to listen to demos. This process is incredibly exciting due to not being able to plan it and knowing what to expect next. Subject To Restrictions Discs is not exclusively releasing music from Switzerland, but–as I may explain later–personal contact is essential to the work, so there naturally is a focus on artists from Switzerland. In addition to this, I lived in Athens last year for a while, which you will soon be able to hear on the label.
What impact does streaming with Spotify have on the economic situation of an indie label?
That is a big question. Let's put it this way: without Spotify and co. we would only have the income from the record sales, a few downloads on Bandcamp and our events. Thanks to Spotify, we have a regular income that continues even after the last record has been sold.
When you look for new music to sign what are some key elements and factors you are looking for, aside from it being a great track obviously?
If I like the music and it fits into the cosmos of the label, then I meet with the artist(s). At a personal meeting, I want to find out what the individual ambitions are, the story behind the music, and what ideas are already floating around. The decision to publish music is always also the decision to start a long-term relationship. Many things have to be right on a personal level and you have to be able to talk honestly about yourself, your music or, when it comes to me, about my label. What is possible and not, what do you want to achieve and what not, etc.? If there are different ideas, views or whatever it is, then I and the label are probably not the right place for a release.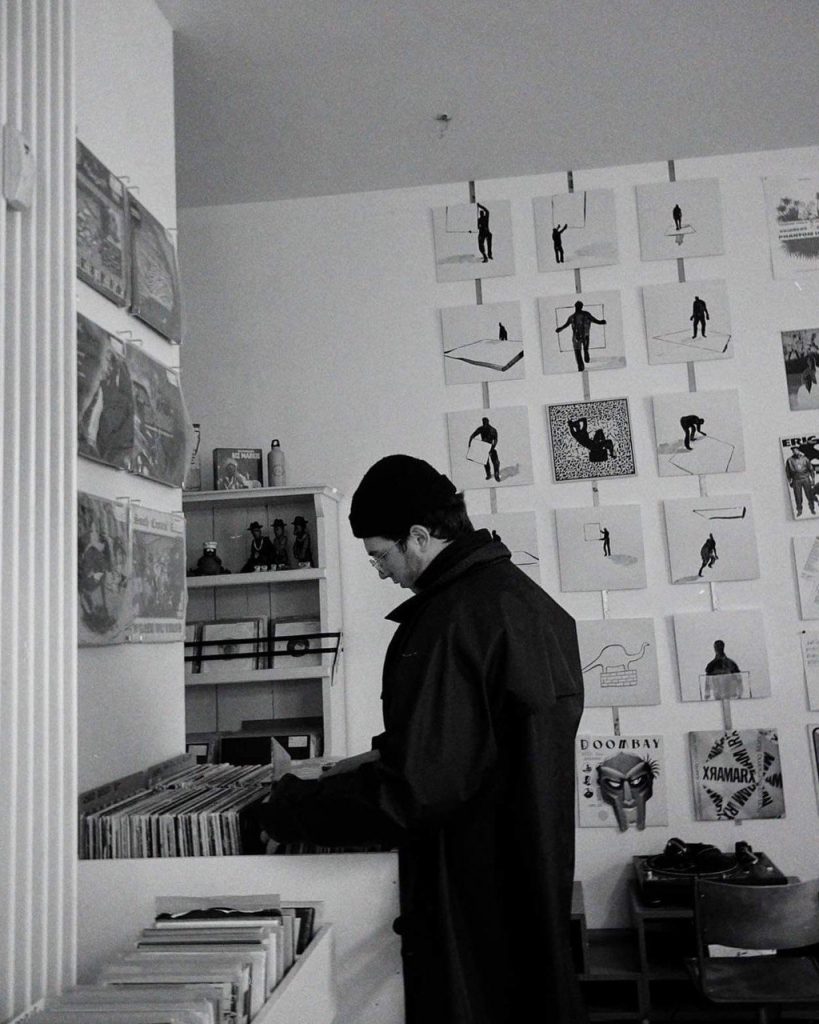 Started his first record label in 2016: DJ and Subject To Restrictions Discs boss Dominik André. Photo: Soela.
How would you describe the style and vision of your Label?
The label embeds itself in a club context without releasing only club music. One of the label's slogans is "Squinting on the dancefloor," which fits quite well. We are connected to club music but usually situated at the edge of the dancefloor, however, still get lost on it sometimes. This is certainly something that needs to evolve and I am very excited to see where it will lead. Apart from the musical direction, with Subject To Restrictions Discs, I want to give artists and their music a platform to be heard and seen. The reason for this is that there is an incredible amount of great music out there, but it never makes it out of the studios. The label allows me to go into the studios, get to know the artists and go public with them. Musically, I follow a timeless style. By that, I mean that I want to work with music that will still be relevant many years from now and that may not be understood today but will be at some point in the future.
What are some sites or apps that you use to listen/ find new tracks?
The demos usually come via SoundCloud, which is a convenient way for me to listen to something on the go.I use Spotify, Bandcamp or my turntables for my private music consumption, depending on availability.
For producers out there sending in their demos via emails, what are some tips you would give them on professionally sending in their track to you?
If you don't know each other personally, use the channel requested by the label. If it's not posted somewhere, then ask. This way you'll also find out if a label is open for demos. I appreciate it when you get straight to the point. That means a link to the music plus some context. Additional info like artist bio, gladly in the file folder or somewhere visible. Send a message only once and not on all channels. As described above, for me, the personal is decisive, i.e., I will contact you if the music appeals to me, and we will talk in person in a next step.