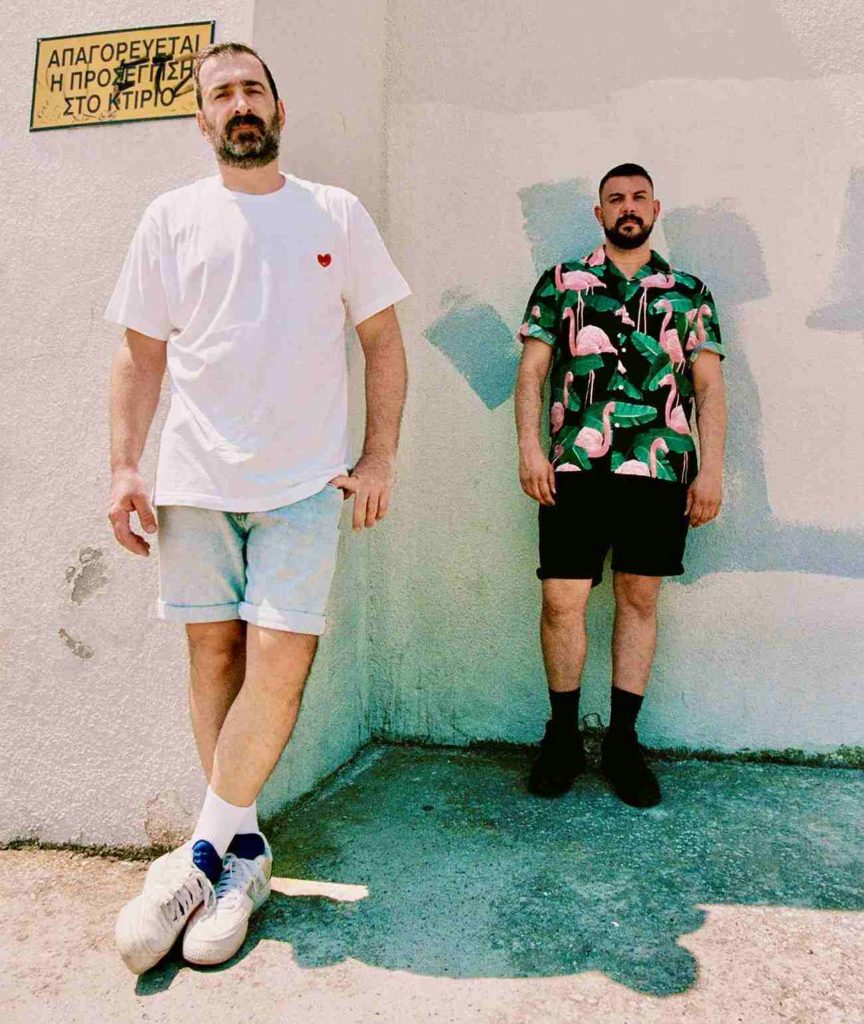 -Please introduce your project to our readers.
We have been friends since forever. Met in a club in the centre of Thessaloniki. Both in love with music and dance. We had worked alone and together in different projects, until we realised we wanted to share some common ideas. It was the night before 3 years in a rooftop party that we decided we can start this project having dance music in mind.

-How do you handle music requests?
With respect! But it's good for people to know that a dj is doing an important job so it's great if they just let them do it!

-What do you do when equipment goes on strike?
We have the perfect excuse to go on vacation

-What are your musical influences from childhood?
Vangelis: As a child I was stealing my sisters' cassette tapes, with Madonna, Duran Duran and Sandra. In highschool i was an indie kid with long hair and second hand clothes. It was all about The Cure, The Smiths, The Stone Roses and all the Manchester bands.
Tareq: I was more of a 90s pop kid (Ace Of Base, Depeche Mode, Madonna) until my DJ friend at the time introduced me to House Music.

-Is it even possible to argue about musical tastes?
V: I remember when I was younger I was taking advantage of stuff like that to proudly talk about achievements of bands I used to like etc. Now I love how mainstream, indie and dance music are blended together in such nice ways through remixes and great productions. As common as it sounds, it's all about feelings and how a song can make you remember something, cry, dance or feel happy for a moment. Who can judge if you feel nice with a pop or a rock song?
T: Between us, even if we have different musical influences we have a common ground and we are very understanding and respectful to each other's tastes and we make sure what we produce is something we both like!

-Which track would run when you moved into your boxing match?
V: M&G "When I Let You Down"
T: Goldfrapp "Strict Machine"
-What was the worst job you ever had?
V: Working in a fruit can factory and had to be aware of a huge machine and the buttons on it. Even now, 20 years later, I still feel lonely thinking about this huge place and recall the melancholy all over the place.
T: Working in retail is a nightmare!

-Describe your sound to someone who has never heard it before.
Dancing to 80s music, in a 90s nightclub while the video screen plays "whatever happened to the Gender Benders".

-Do you have any good tour stories from clubs or festivals?
V: I was DJing at Le Bain in LA, and a girl came to the booth to ask me what time Vangelis was on. I told her that i'm Vangelis, and she looked at me confused, asking if I were an academy award winner! I said no, and she left disappointed. Of course she was referring to Vangelis Papathanassiou, only because she read the name Vangelis on the flyer (obviously without noticing anything else!).

-What would you do if you weren't a musician?
V: I change jobs very often if I'm honest…I feel like every 3-4 years I'm losing my interest and need something else. Don't know if that's good to say though.
T: Well music has been a big part of my life either as a side job either as a main job. But I've always wanted to be a psychologist or a tarot reader! 

-Could you tell us more about your New Era EP on Iptamenos Discos?
It's a track written during the lockdown days, with a melancholy of those uncertain times and some lyrics to remind us that simple things are the most important ones. Like the sun that shines every day.

-What are your upcoming plans?
We have some exciting releases scheduled for the rest of the year, including remixes, and some dj plans including Love International 2022 that we are looking forward to.
Boys Short's 'New Era' is out now on vinyl and digitally on Local Suicide's Iptamenos Discos and includes remixes by Each Other (Justin Strauss & Max Pask), Luca dell'Orso and Lott & Local Suicide. You can get it here.