Adresse: Falckensteinstraße 30 10997 Berlin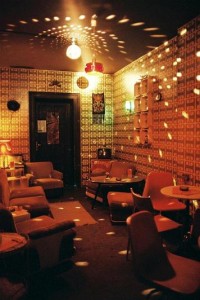 Willkommen in einer heimeligen und bequemen Lounge Bar, die an die Atmosphäre der 60er und 70er Jahre erinnert! Tapeten im Retro-Style, Pelzlampen und Sofas, Plüschpudel… diese Explosion des schlechten Geschmacks ist einladend und behaglich wie ein Wohnzimmerkokon. Orangerotes Licht und eine Discokugel machen die Atmo perfekt. Auf zwei 6-Watt-Plattenspielern läuft die beste Musik der guten alten Zeiten. Die DJs spielen 60s & 70s Soul, Funk, Beat, Jazz, Trash, Ska, Pop, Latin and Twist – das ganze wundervolle und verrückte Zeug. Cocktails, Longdrinks und Bier werden in diesem einzigartigen "Wohnzimmer" von Dienstag bis Sonntag, ab 20.15 angeboten. Open end.
Welcome to a cosy and comfortable lounge bar that recalls the atmosphere of the 60s and 70s! Wallpapered in retro style, furnished with fur lamps and sofas, decorated with plush poodles and nostalgic lp-covers this explosion of bad taste is inviting and comfy like a living room cocoon. Glowing orange-red lights and a mirror ball keep the atmo in motion. On two 6 watt mono turntables(!) the best music ever of former times can be heard: DJs are playing 60s & 70s Soul, Funk, Beat, Jazz, Trash, Ska, Pop, Latin and Twist – the whole lot of wonderful and crazy stuff. Cocktails, long drinks and beers are offered in this unique "living room" style from tuesday to sunday, 20:15 hrs. p.m. until open end.