Artist Interview / Habitat 2022:
Hi Annett,
thank you for your time. Nice to meet You!
Please introduce your project to our readers.
Hi, thanks for the invitation. I am Annett Gapstream, electronic music DJ and producer from Berlin. Until now music took me through entire Germany, wide parts of Europe and even to Panama, Colombia and Thailand. In the last two years I also speeded up the music production game and am happy to release with great labels like Blindfold from Denmark and Black Rose from Italy just a couple weeks ago. Further you can find music on my home bases Stil vor Talent (new one in August) and Rebellion der Träumer.
What are your musical influences from childhood?
Back then, early teenage age, I always listened – without actually actively knowing – to that 2 or 3 electronic music hymns on omnipresent multisamplers like The Dome Vol 2 or something. A little later, with 17, I bumped into the last Loveparade in Berlin and was stunned for weeks.
Is it even possible to argue about musical tastes?
Why even should we. Everybody should do and listen what she/he likes as long as it doesn't harm others. However, very few musical tastes kind of harm me a bit.
Which track would run when you moved into your boxing match?
Maybe one from Placebo.
What is the most important musical equipment invention of all time – and why?
Hard question. There are so many and probably really necessary ones. Nevertheless, the first thing that came into my head was the Walkman. It really made a lot of people very happy.
Describe your sound to someone who has never heard it before.
Day Techno.
Do you have any good tour stories from clubs or festivals?
My first Fusion Festival gig was in an indoor stage. It was more than packed, people where dancing everywhere around me, also on bars and half on the dj table. They came in through the windows and I literally didn't know what was going on. Plus there was somebody with a funky helmet stage diving or rather flying like superman through the room over the hands of the people. It was def one of my craziest and greatest gigs ever.
Your last message from the Habitat Festival?
Wow, thanks for this lovely Sunday afternoon. Great festival! Really enjoyed it.
Thanks a lot Annett, come grab another cold drink and enjoy the rest of the day. Hopefully we'll see and hear each other again soon in Hamburg.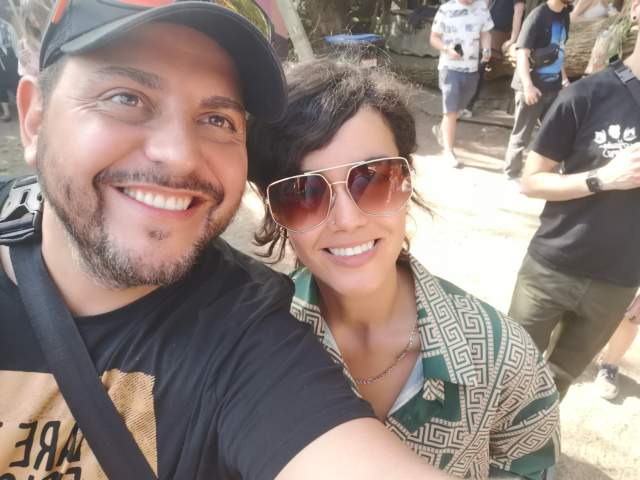 Tourdates 2022 //
24.07. Deichbrand Festival, Cuxhaven
31.07. 20 Years Watergate Open Air at Sage Beach, Berlin
31.07. Watergate Aftershow, Berlin
04.08. Rocken am Brocken, Elend
06.08. Appletree Garden Festival, Diepholz
11.08. Pangea Festival, Pütnitz
13.08. Fest Festival, Katowice (PL)
14.08. Edelfettwerk, Hamburg
20.08. Bucht der Träumer Festival, Helenesee
26.08. Eulenflug Festival, Windelsbach
28.08. The Island Festival, Obonjan (CRO)