From July 28-30 2023 the first ever edition of Gaswerk Art Days hosts an extensive number of music acts, experimental performance & dance pieces, art exhibitions, installations, and video screenings, all carefully strung together by a team of dedicated curators around Gaswerksiedlung's manager STEPHAN KUNZE, LETIZIA TRUSSI with Rooms of Kairos, ROMAIN AZZARO, ANDREAS VÖLK, ELHADJI MAMADOU FAYE (JOEART) and DAN SU.
BILDER: PEER KUGLER
Though Gaswerksiedlung is one of the most interesting, vibrant, and beautifully located creative communities in Berlin, it remains since 2018 a well kept secret. The studio and atelier complex is located on the southeastern fringes of central Berlin, a 3 km tram or bike ride away from the busy Ostkreuz train station. Located just across the landmark Funkhaus Nalepastrasse, a short walk to infamous Sisyphos and river Spree with all its marinas and scenic river bank walks just around the corner.
The Art Days intend to activate the potential of Gaswerksiedlung as an influential space for music and art in Berlin, whilst also taking the opportunity to define the artistic signature of the studio community. This year's program spans rising talents in contemporary art from Senegal such as Aliou "Badou" Diack, an artist in residence at Gaswerksiedlung during June and July to create site-specific installations and artworks, to new music collaborations bringing together some of the most interesting characters of the local scene. The musical spectrum ranges wide from afro-jazz and experimental electronic music to eclectic selectors and modern Krautrock's prominent personalities.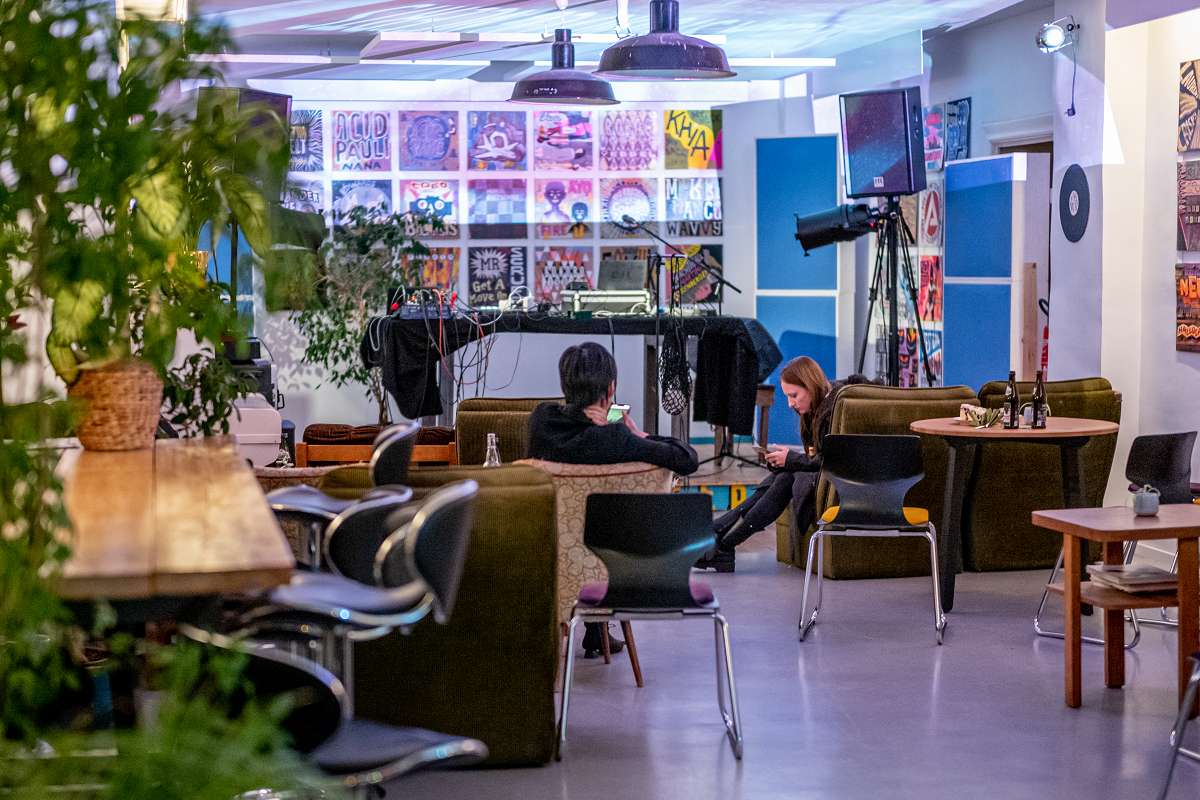 MUSIC PROGRAM
The music program consists of a multifaceted lineup, where energy, atmosphere, and quality trumps specific genre or fame. Reflecting the multiplicity of influences and tastes of the curators, the team has created an event for music lovers, open minds and curious ears. From energetic and genre-transgressive band performances under the summer sun to delicate listening sessions and late-night electroacoustic solo performances.
Amongst others the Art Days will feature the award-winning experimental pop auteur Perera Elsewhere; acclaimed South-African classic guitarist Derek Gripper, specialising in the Kora music of Mali and playing in Berlin for the very first time; electroacoustic composer and percussionist Andrea Belfi; ever-transformative and lively collective Mop Mop guided by Andrea Benini; selector and Worldwide FM radio host Coco Maria; the raw, unpredictable experimentations of the band KUF; and the no-boundaries selection, smart rhythms and depth of French, Berlin-based DJ Marylou (Morphine Records).
Multifaceted DJ, producer and drummer Ziggy Zeitgeist teams up with Ghanian percussionist legend Ekow Alabi Savage; while under the lead of steel pan champion Samuel Dubois, Caribbean energy meets underground grooves with the soca heat brought by Triniboi Joocie, the genius of pianist Aron Ottignon and the drumming mastery of Jose Joyette.
Multinational band Aly Keïta & The Magic Balafon will play one of their rare live shows in Berlin as well multidisciplinary artist, musician, filmmaker and curator Alibeta will present his live band project
On the experimental side, the Cologne-Berlin Kraut-Jazz formation C.A.R. features the electronic contribution of Max Loderbauer; while Dub master Deadbeat teams up with the electroacoustic composer Maarten Vos
Emerging talent from Senegal, Ibaaku, with his distinct futuristic electronics; Cinna Peyghamy, combining the tombak with the endless possibilities of modular synthesis; and the irresistible electronic, soulful grooves of producer and vocalist LeCiel. Finally, none other than Shackleton will be providing connecting DJ sets between these upcoming artists. Many more artists from Gasweksiedlung and its expanded circle will share the stage.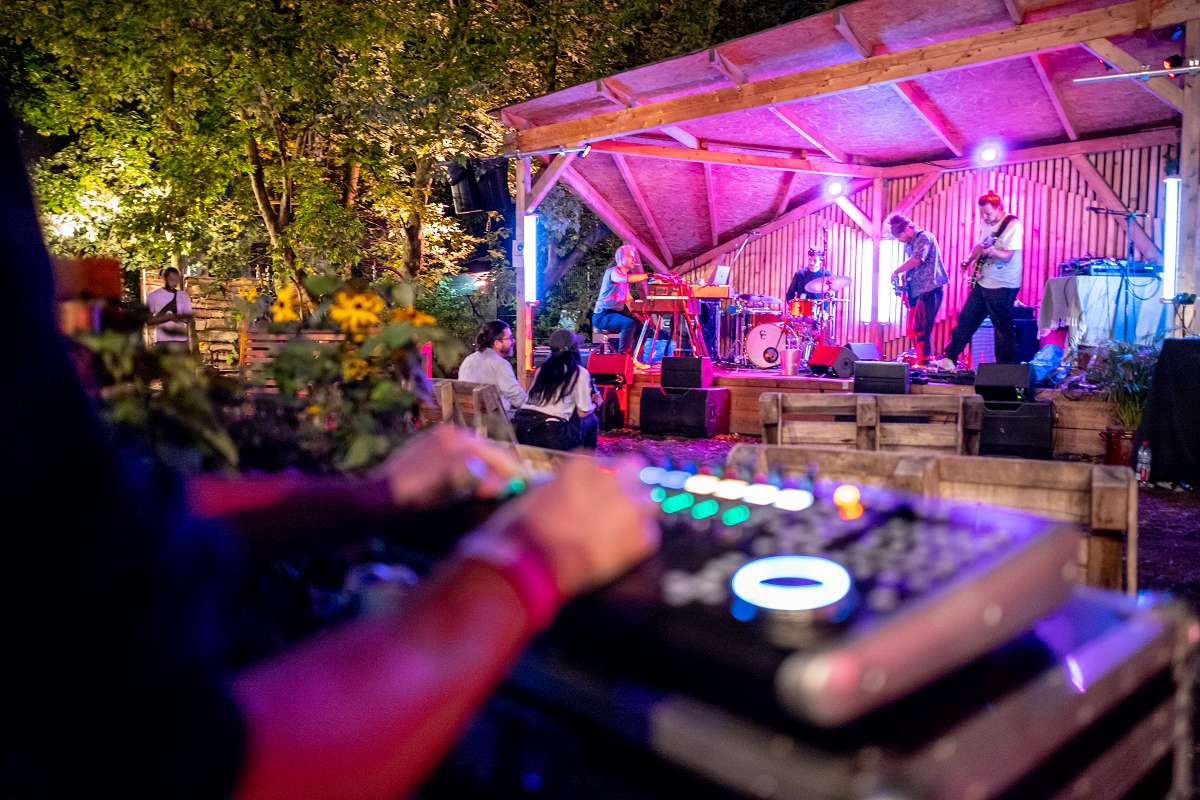 PERFORMANCE PROGRAM
After presenting the site specific debut performance "TU BE" in 2020 Dan Su continues a fruitful relationship with Gaswerksiedlung by curating the Art Days performance program, filled with site-responsive pieces catering to the location's industrial and historical symbolism using actual remnants of today.
Gaswerk Art Days 2023 performance program features spirited afrodelic dance performances of Exocéexiste, Afro-Trans Diary by pole dancer Kalil Bat, Butoh performance by Megan Brailey, long-durational experimental dance performance by Melika Akbari aka likabari, queer performance "aus(w)ringen" by Judith Konitzer and Lav Ender as well as experimental and sound performance by su dance110 amongst others.
VISUAL ARTS PROGRAM
The Gaswerk Art Days visual art program includes a variety of aesthetic positions, with works being presented across different spaces and corners of the community. A highlight of this department is Senegalese rising artist Aliou 'Badou' Diack who is artist in residency at Gaswerksiedlung for the months of June/July and presents his creative output during the Art Days at the architecture studio, Studio O. Next to the sculptors David Laugomer and Ayu Ohinata, Senegalese Berlin-based artist Faye Elhadji Mamadou aka JoeArt will also join the exhibition. Faye Elhadji Mamadou is closely involved in the curation of the visual arts program and inspires this year's graphics and visual theme.
More artists from the local community contribute to the programming such as Isabelle Tellié will host a mini-exhibition at her Tiny House and present a new interactive installation in the garden; photographer Anna Bresoli and illustrator Faruk Marsi Vilca will open their studio Studio 28 for an extensive presentation of their works; and the Tranquilo Collective will present a well crafted video artwork. Other surprising contributions will punctuate the days and nights of the weekend, like the mappings of Thym'Art, and many more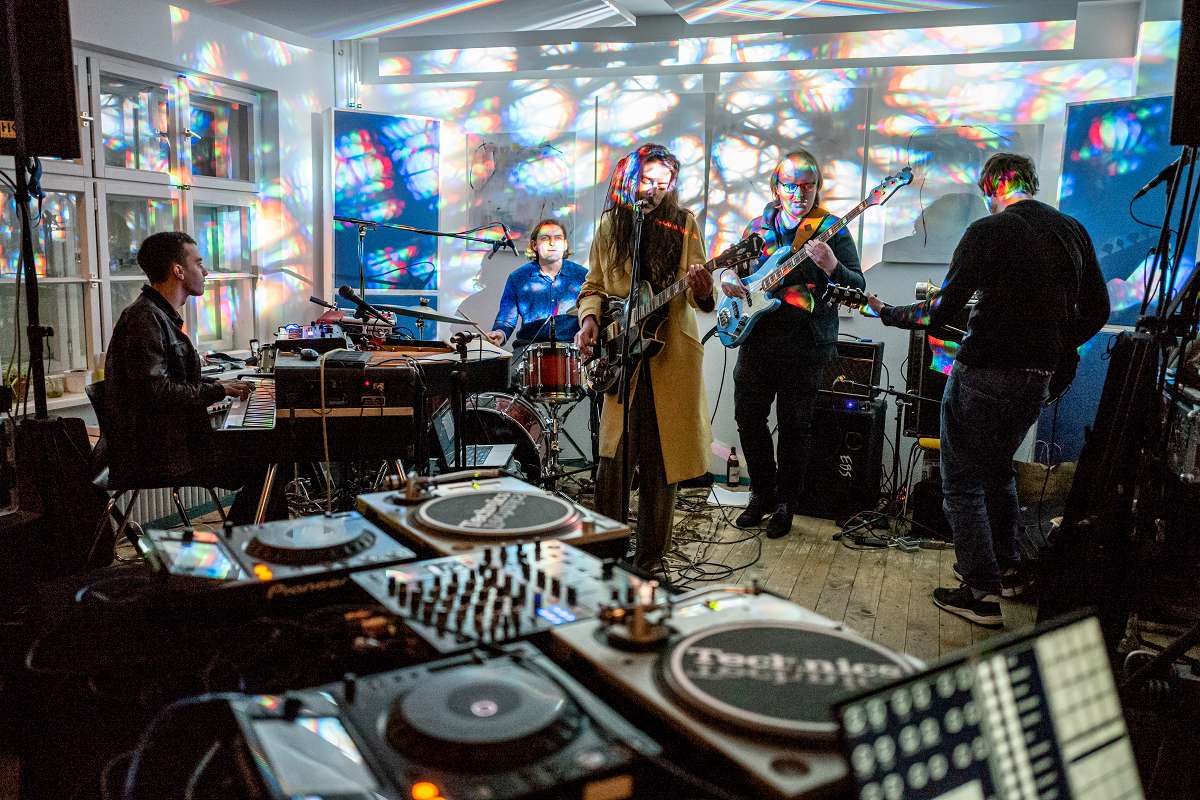 VENUE
Since its inception in the beginning of 2018, the studio complex continues to evolve into an integral hub for music, art and creativity. Stephan Kunze converted 105 former apartments into studio units in the more than 100 years old historical building. Until today the complex hosts the work of over 500 creative professionals with many of them active in music and sound. Tucked away, sprawling beyond the building, a beautiful garden provides a peaceful space for leisure to the creative workers. Gaswerksiedlung hosts a café and cantine called Muschkebart, which also functions as a meeting point for the residents, as gallery space, and as concert location. For example Rooms of Kairos curates regular exhibitions in the space, and Sauna Studio organises a monthly experimental concert series. Right around the corner of Muschkebart, the charming gART.n event space is home to numerous open-air events. Every weekend, all summer long the space invites electronic music events, cinema nights, live concerts, and more…
CURATORS
Lead by Gaswerksiedlung's manager Stephan Kunze and creative director Letizia Trussi, the curation team of the Art Days team has emerged and grown strong also thanks to connective experiences such as art and music residencies abroad (Dominican Republic 2021 and 2022) and to the cultural programs and initiatives taking place in the community over the past years.
ARTIST NAMES IN ALPHABETICAL ORDER
Music artists
Aly Keïta & The Magic Balafon
Alibeta
Andrea Belfi
Baby Vulture
Ben Olayinka
C.A.R + Max Loderbauer
Cinna Peyghamy
Claudio Puntin
Coco Maria
Deadbeat + Maarten Vos
Derek Gripper
Ekow Alabi Savage + Ziggy Zeitgeist
Halosaur
Ibaaku
KUF
LeCiel
Marylou
Mop Mop
Perera Elsewhere
Rhythms of Prescott
Sacha Hladiy
Triniboi Joocie & the Samuel Dubois Band
Shackleton (DJ sets)
Shush presents… Ama//Mizu (live), D'Monk (live), Ken Okuda, Orlando Rosé
Sonic Interventions
UTA (Tresor/Warning)
Performers
Exocéexiste
Judith Konitzer and Lav Ender
Kalil Bat
Megan Brailey
likabarisu dance110
Visual artists
Aliou "Badou" Diack
Anna Bresoli
Ayu Ohinata
David Laugomer
Elhadji Mamadou Faye (JoeArt)
Faruk Marsi Vilca
Isabelle Tellié
Thym'Art
Tranquilo Collective