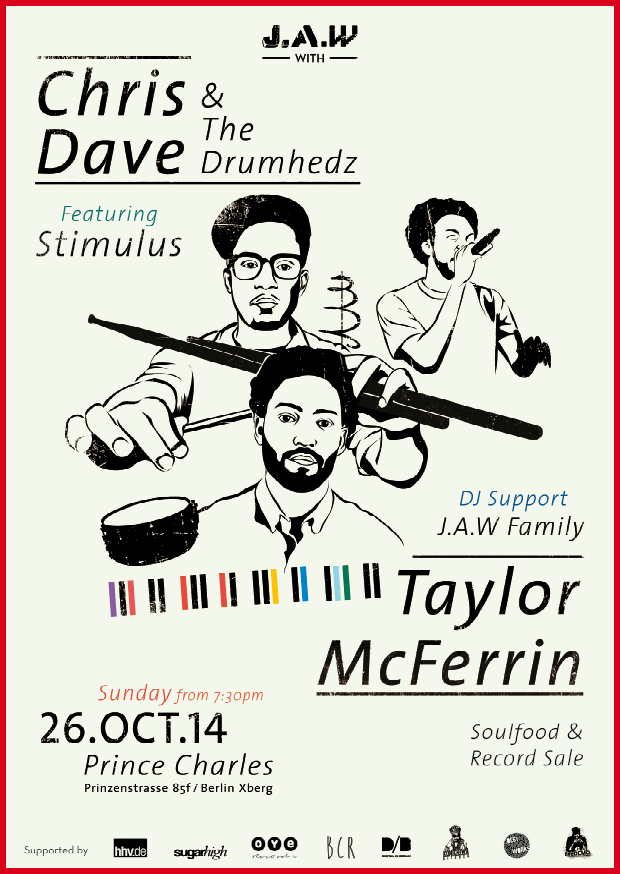 TAYLOR MCFERRIN "LIVE" (Brainfeeder / NYC – USA)
&
CHRIS DAVE & THE DRUMHEDZ "LIVE"
with Special MC Guest Stimulus (Blue Note / NYC – USA)
Sunday, October 26
Prince Charles, Berlin
WATCH OUT!! New York City is literally taking over Berlin & J.A.W next Sunday, 26th October with three serious guests aka Bobby McFerrin's son, the prodigious Taylor McFerrin, one of the most in-demand Drummers out there, the phenomenal Chris "Daddy" Dave together with his Drumhedz & special guest MC, Stimulus.
Taylor McFerrin is a Brooklyn-based producer, composer, pianist, DJ and live musician. His musical style is equally influenced by the legends of 60s/70s Soul, the kings of the Modern Beat Generation, Golden Era hip hop, free form jazz and electronic music, playing all of the instruments on his productions.
Taylor has just released his long awaited first album Early Riser last June on Flying Lotus's Brainfeeder imprint with prestigious guests such as Robert Glasper, Thundercat, Hiatus Kaiyote singer Nai Palm, Brazilian master Cesar Mariano or his father Bobby, an album that follows his classic first EP "Broken Vibes". The multi-instrumentalist already got big props from his peers for this album & has already been confirmed at Gilles Peterson's next Worldwide Awards with some serious chance to get awarded for it.
Chris Dave on the other side is no less than one of the most revered and in demand musicians of his generation. According to The Roots very own drummer ?uestlove, Chris "Daddy" Dave is "probably the most dangerous drummer alive".
The Houston-based drummer has been around for years now, started playing like many musicians Gospel music in church. He has been recording so far with some of music's most established and iconic artists of our time including D'Angelo, Meshell N'Degeocello, Maxwell, MF Doom, Erykah Badu, Adele, Kenny Garrett & of course Robert Glasper Trio & Experiment. His eccentric approach to the drum set and his ability to adapt to any musical setting, whether jazz, hip-hop or R&B, has put him in a category of his own. Chris recently left the Glasper Experiment to form his own band, Chris Dave & the Drumhedz, a band known for its sick live improvisation on the music of visionaries such as J Dilla , Jimi Hendrix, D'Angelo, Fela Kuti, Radiohead or Herbie Hancock to name but a few. No date has been revealed yet but the band should put out their first album on the legendary Blue Note label soon.
And to get down with the Drumhedz, we couldn't get better guest than Brooklyn born & now Berlin based MC, Stimulus, responsible for the "3rd 1st Impression" Mix Tape, together with Chris Dave.
After the epic Free Spirits event last year with Gilles Peterson, Four Tet, Floating Points or Dwight Trible, be prepared for another holy Sunday at J.A.W!