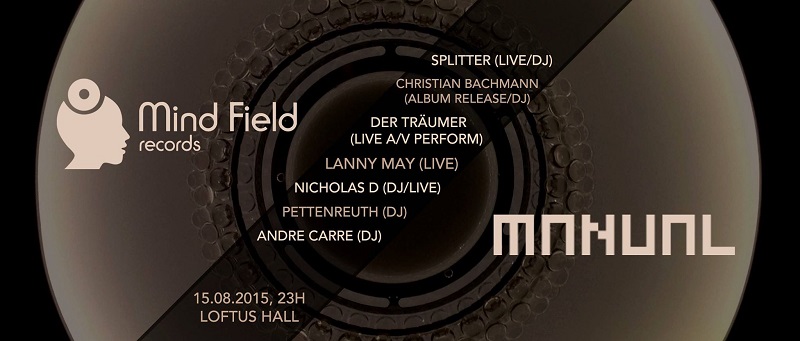 Das Label Mind Filed Records macht zusammen mit dem Label Manual Music eine Party in Loftus Hall. Um 23 Uhr gehts los und der Eintritt ist 6 Euro.
Loftus Hall
Maybachufer 48 / Ecke Pannierstr., 12045 Berlin
**LANNY MAY – LIVE
**DER TRÄUMER – LIVE AUDIOVISUAL PERFORMANCE ART
**CHRISTIAN BACHMANN ALBUM RELEASE
**SPLITTER LIVE
**More Mind Field and Manual Music Treats in this big showcase of talent….
This will be an event of intense visual and melodic nature in the realm of Berlin's wild underground electronic music scene… A gig perhaps to put on the list for those who are craving a little more than the standard old house and techno grooves. A chance to dance, but also to experience something special amidst music lovers and aficionados.
Loftus Hall is a fabulous club with 2 rooms, a great sound system and a loungy, dirty 70's feel. A place to sit with a nice drink and watch the visual displays or kick up the shoes on the dancefloor.
One of the highlights of this event will be composer Fabrizio Nocci with visual artist Cosimo Miorelli as they perform a live story telling performance know as Der Träumer. "Der Träumer walks into a dream. Places and atmospheres arise from silence and dissolve into colors, shapes and figures feed on sounds and come alive dancing with brushstrokes. It is familiar and uncanny, dark and colorful, obvious and unpredictable, just like dreams are."
On the dancefloor there will be a live electronic set by the very organic sounding Lanny May (https://soundcloud.com/lannymay). Lanny has made his name in the underground scene in an area that would be described as smooth flowing and uplifting electronica on labels such as Manual Music, IRM and Maripoza.
Furthermore, the night will feature wonderful sounds from Analogue composer, musician & producer – Christian Bachmann (https://soundcloud.com/christianbachmann) to mark his debut album release on Manual Music (https://soundcloud.com/manual-music) with album – Premium. Warm, smooth sounds for the dancefloor and beyond.
Also on the line-up is the very talented and live performer – Splitter, Mind Field Records owner – Nicholas D with original and uplifting esoteric gems from all over the globe and much-loved local act – Pettenreuth.